Clarify strategy, define priorities, assign objectives & targets, monitor progress and target fulfillment
Everyone knows what to do – when, how and why
Create flexible plans and governance models tailored to your organization
Visualize the organization's overall strategies, define and distribute goals
Break down strategies and goals into agile action plans and operational activities
Allocate responsibilities and resources
Make work and progress towards goals visible
Report status and monitor results in real time
Manage in the office, away or at home just as efficiently
Simplify collaboration and communication for effective implementation both within and across organizational entities
With Cleerit your strategies, goals and plans get a dynamic platform to grow, be seen, understood and easily assessed – rather than being locked away in a static presentation or spreadsheet!
---
Engage all employees and turn strategies into reality with Cleerit!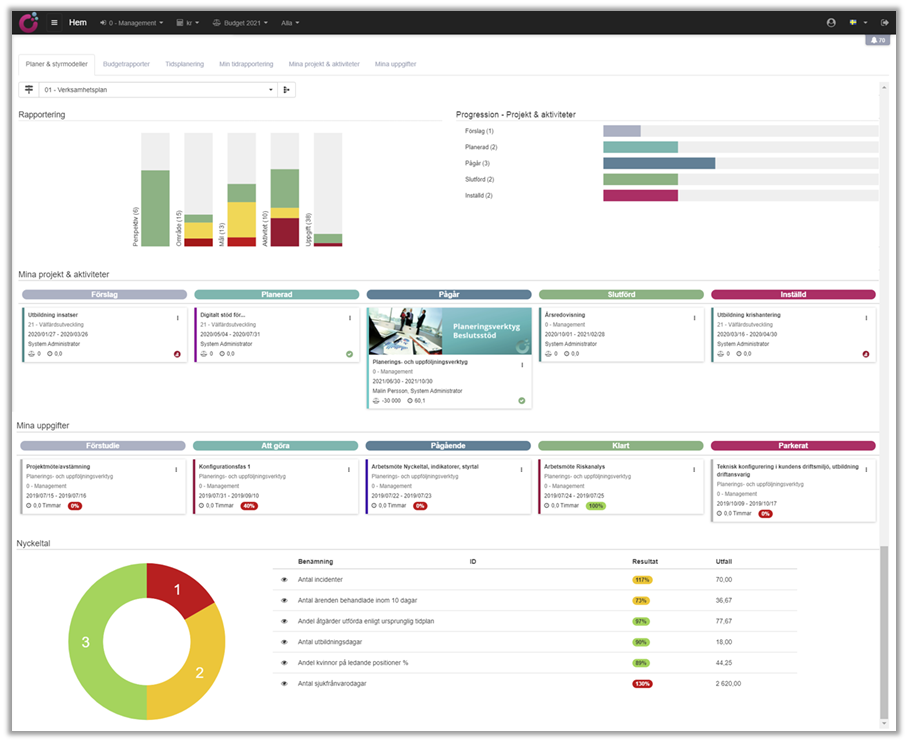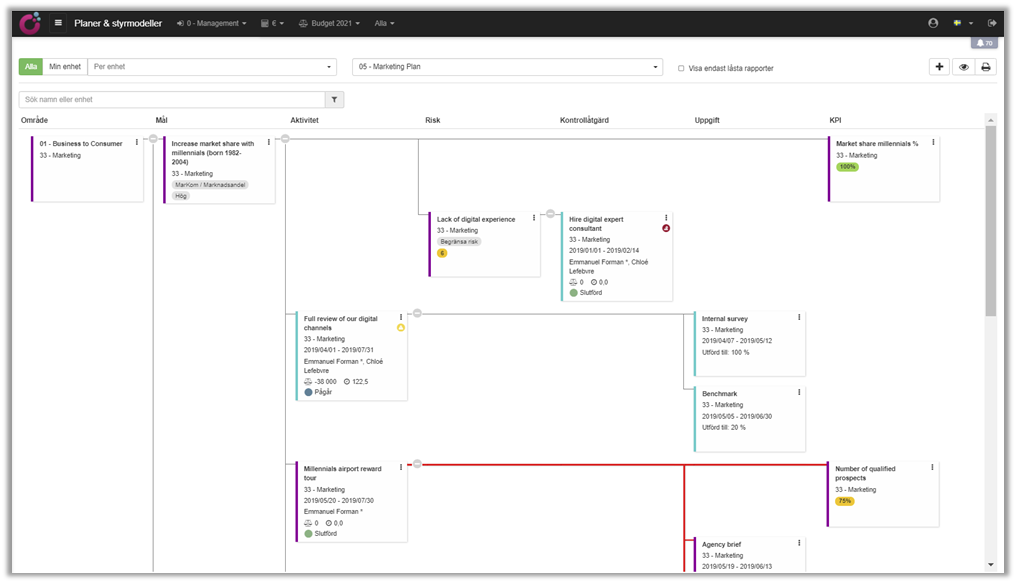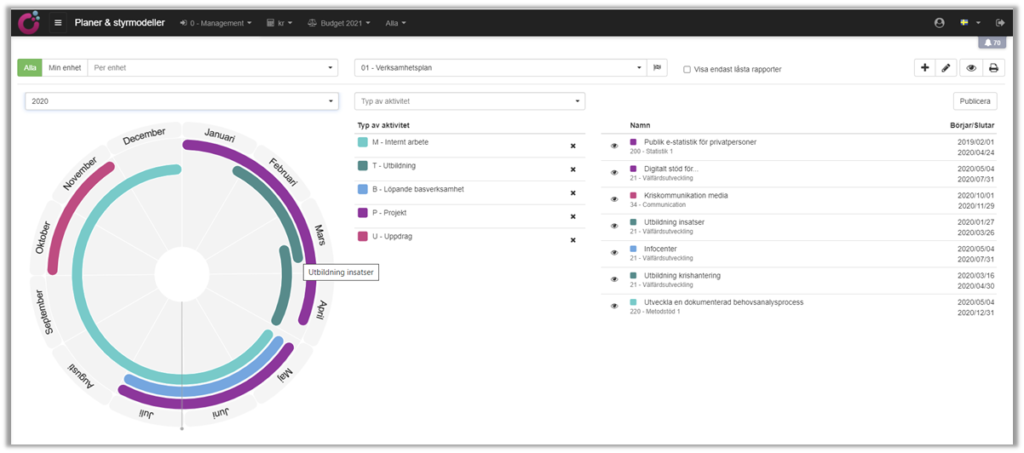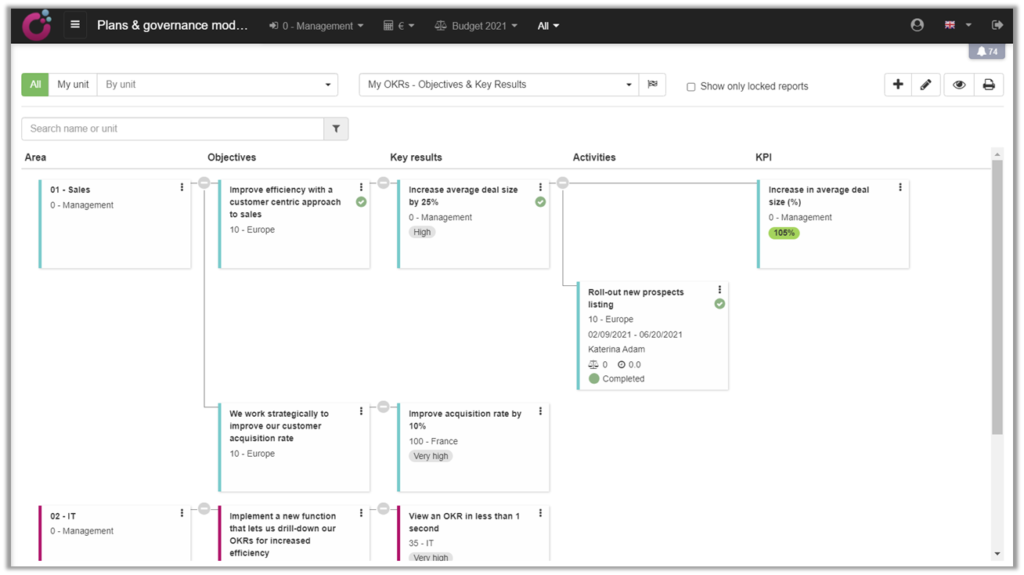 ---
More

about strategic planning, goal management, OKRs
Without digital support, it can be difficult to succeed
Research confirms that strategy implementation is THE most important challenge for an organization to succeed.
Still, when it comes to strategy execution, there is a knowing-doing gap, and less than 30% of all strategy implementations are successful.
When asked to identify the single greatest challenge, managers specifically point to 3 important shortcomings:
Strategic goals are poorly understood, seem unrelated to one another and disconnected from the overall strategy.
It is difficult to communicate strategic goals in a way that creates understanding and the possibility for team members to connect their everyday activities to these goals.
There is often a lack of structure and routines for assessing goal reaching and progress over time.
An important reason why these difficulties arise is that the critical information needed to manage and monitor strategies and activities is often spread in different types of documents and systems that are not able to provide the necessary overview required to clarify these important connections.
Thanks to the increased range of digital tools and services these difficulties are much easier to overcome today. Digitizing your plan, manage and control processes and choosing the right tool is an investment with high return potential.
Agility should be balanced with alignment.
Strategic discipline is also important when deciding what to prioritize and which new opportunities to pursue.
In today's fast moving environment it is important to be agile but agility should not be used as an excuse to chase every opportunity that arises. Unless managers screen opportunities against strategy, they are more likely to waste time and effort on peripheral initiatives and deprive the most promising ones of the resources they need to reach the strategic goals.
Agility is critical to execution, but it must fit within strategic boundaries.
Strategy implementation, OKRs and goal management is easy with Cleerit
With Cleerit, it is easy to transform strategic plans into reality. Your plans will be structured in governance models with clear execution paths tracking the implementation of strategic initiatives, while measuring and monitoring progress over time.
Strategy implementation and goal management becomes easy, accessible and transparent for everyone in the organization, every day. You will increase alignment, agility and employee engagement – and save time and money, which will lead to secured goal reaching and increased performance.
---
Read
more
Read more about how activity planning can help you turn your strategies into reality.