The method that engages teams to stay focused on ambitious goals and key results
OKR – Objectives and key results – is a popular management method in times of high growth or major change, where teams and individuals focus on a few ambitious goals and key results in transparent processes and agile follow-up cycles. OKR helps you ensure that you focus your efforts throughout the organization.
Cleerit helps you succeed with your OKRs
Define and distribute goals and strategies
Inovolve teams and individuals in setting time framed goals and key results
Increase engagement and invidual accountability
Support both top down and bottom up processes
Plan activities and tasks to reach the key results
Plan resources and time, mangage budgets and forecasts
Follow up with continuous status reports
Be prepared for your business review meetings
Promote learning in an iterative process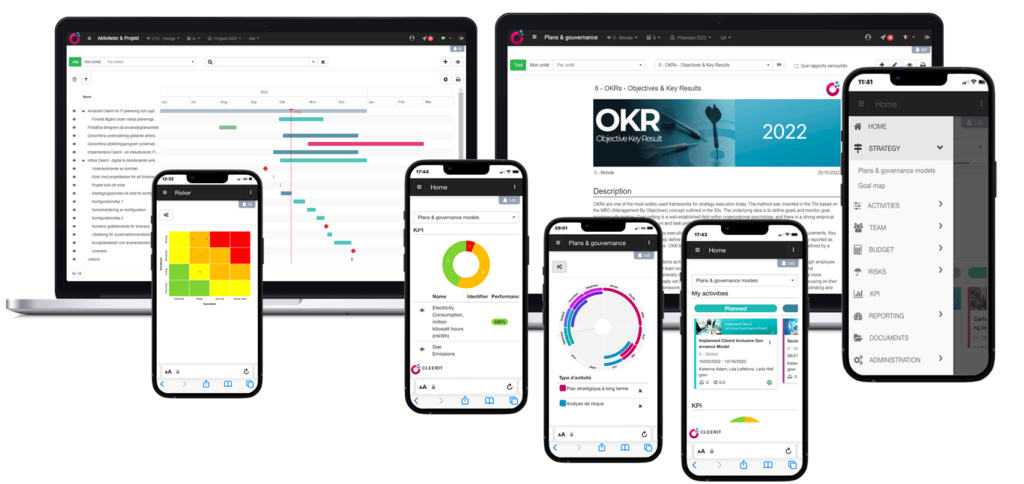 Welcome to contact us to learn how Cleerit can support you in managing your OKR efforts.
---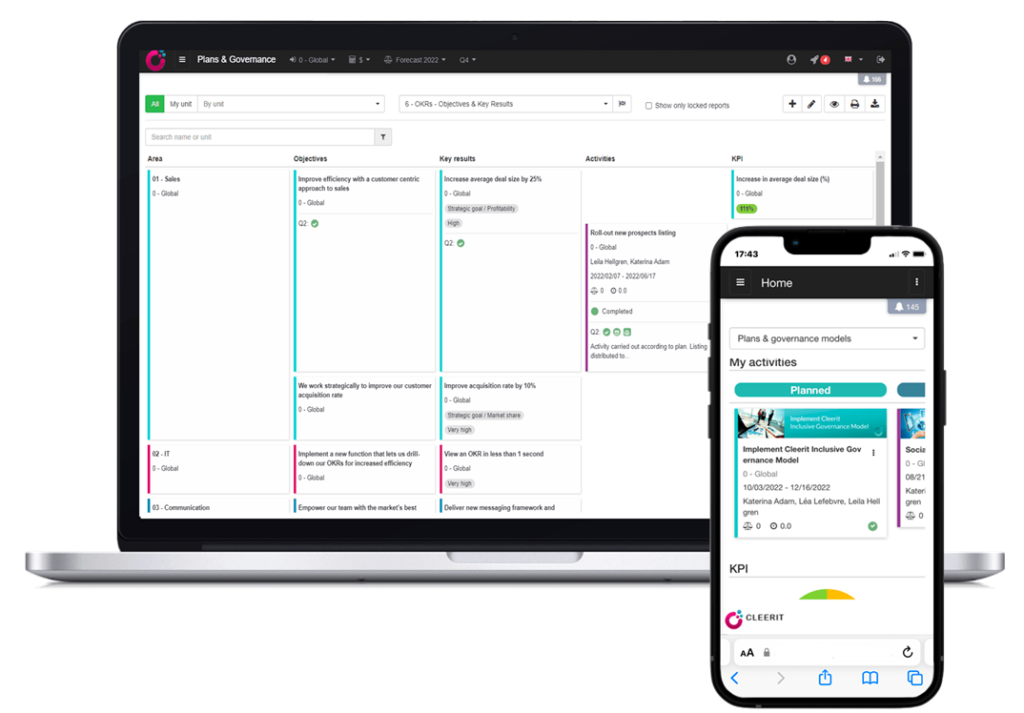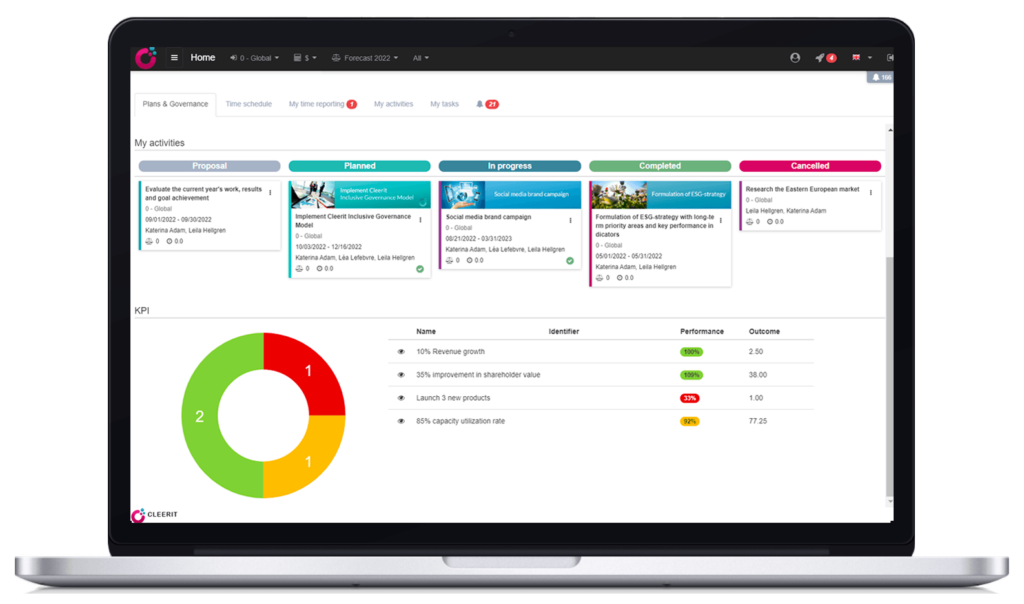 ---
More about OKRs
Who invented OKR?
The method was developed as early as the 1970s by Andy Groove, who introduced OKR in Intel. Today, Google and LinkedIn are well-known ambassadors for the method. One of the earliest investors in Google, John Doerr, called Andy Grove the "Father of OKRs" in his book "Measure What Matters: How Google, Bono, and the Gates Foundation Rock the World with OKRs".
OKRs overturned the the top-down management system: suddenly, workers were valued by what they accomplished, not their background, degree, or title. With OKRs, execution is more important than mere ideas, and Grove, who had fought his way out of Communist Hungary to become Time Magazine "Man of the Year," was living proof of this. As one Intel historian put it, "He was sort of a walking OKR."

Giulia Pines – A closer look at the man who invented OKRs
OKRs should be ambitious and inspiring
OKR goals are formulated in qualitative terms, they are ambitious and inspiring. The goals answer the questions why we do this, what we want to achieve, what is our desired future situation?
Teams and individuals in the organization are involved and engaged in formulating and owning their own goals, which are aligned with the company's overall goals and strategic direction.
Each goal is linked to quantitative key results that show how the goals are to be achieved, in other words, the effects that must be achieved.
Do not set too many goals 
Focus is a keyword for the method and the recommendation is to set a few high goals and key results, an often recommended number is three and preferably no more than five.
There are some principles that form the basis for OKR, and these are; focus, clear connection, commitment, transparency and responsibility.
Set a time for goal fulfillment
OKR is based on a process where the time factor is important. A basic idea is to set a time for when the goal is intended to be achieved. Timed status updates and follow-ups are an important ingredient in the process, and often involve weekly updates and quarterly goal follow-up. With a clear status and follow-up cycle, you build in an agile and iterative process.
Choose a flexible digital solution for your OKR processes
For your OKR processes, it is important to have a digital solution that guides you step by step to realize your high goals with the help of goal-focused planning and continuous status update. A digital solution where everyone involved can be involved and take responsibility for their goals and results.
Cleerit is the flexible tool you need to work with your OKR connected to the overall picture, based on your conditions and needs, to get the best out of your resources on the way to your higher goals and results.
Read on to know more about the features Cleerit offers to succeed with OKRs