Effective management of the IT department's processes and deliveries - with agile and inclusive work methods, and a clear focus on customer value and continuous improvement
Are you an IT director, IT manager, CIO, CTO or part of an IT team? Are you involved in Enterprise governance of information and technology (EGIT)? Are you looking for a user-friendly, complete, flexible and inclusive solution for agile delivery models and ITIL 4 & COBIT compliant management of your IT department's work, deliveries, services and projects? Then you've come to the right place.
With Cleerit, you get a real-time overview of goals, priorities, teams, activities, deliverables, budget and results – and the IT management support you need to achieve your goals. One step at a time, every day.
Cleerit links IT governance to stakeholder benefit & value
Increased proximity to customers, stakeholders and suppliers for fast and efficient IT deliveries
Clear linkage of decision-making and deliverables to strategic objectives and priorities
Complete best practice solution customized to meet your IT organization's specific set-up and needs
To turn really interesting ideas and fledgling technologies into a company that can continue to innovate for years, it requires a lot of discipline.

Steve Jobs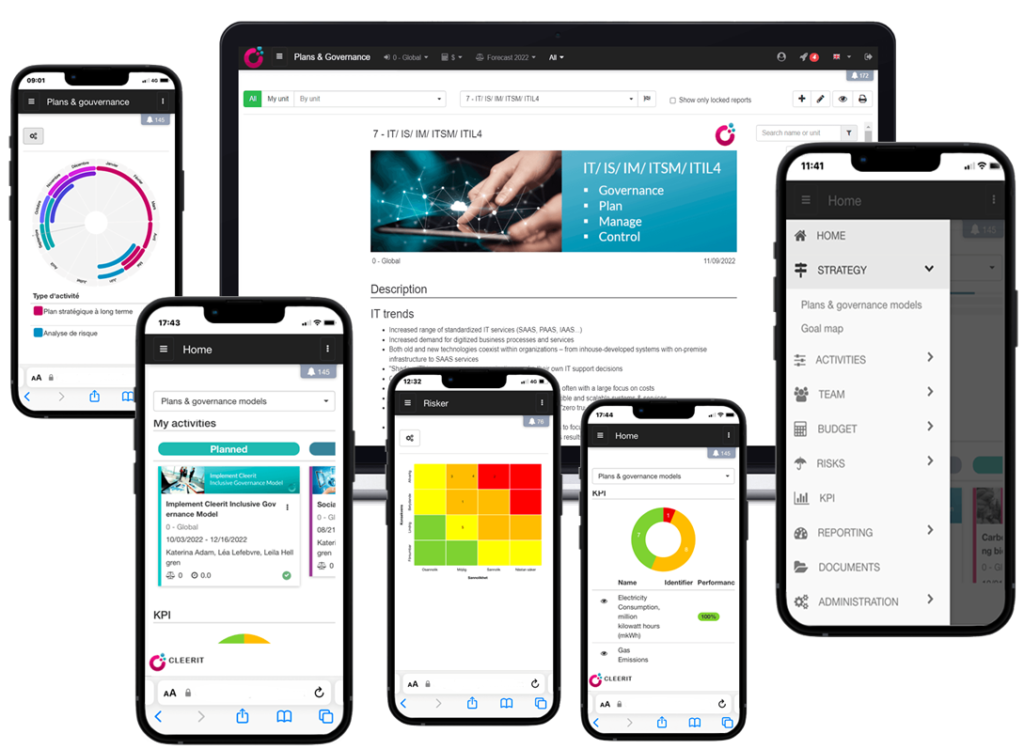 There are many frameworks, models and processes for managing an organization's IT operations. They are combined in different ways to meet each organization's unique situation.
All these components and processes can be difficult to hold together if you manage them with Excel, Word and PowerPoint presentations. Instead, you can use Cleerit to keep it all together and manage both the big picture and day-to-day work.
With Cleerit, you get an inclusive and easy-to-use management system that guides you all the way from strategy formulation to execution and control.
You can start where you are today and create an integrated and collaborative model for managing the IT department's work, services, deliveries and projects, linked to the organization's strategic goals and priorities. To reach your goals, one step at a time, every day.
You are welcome to contact us to learn how Cleerit can support you to plan and manage your IT/ITSM initiatives.
---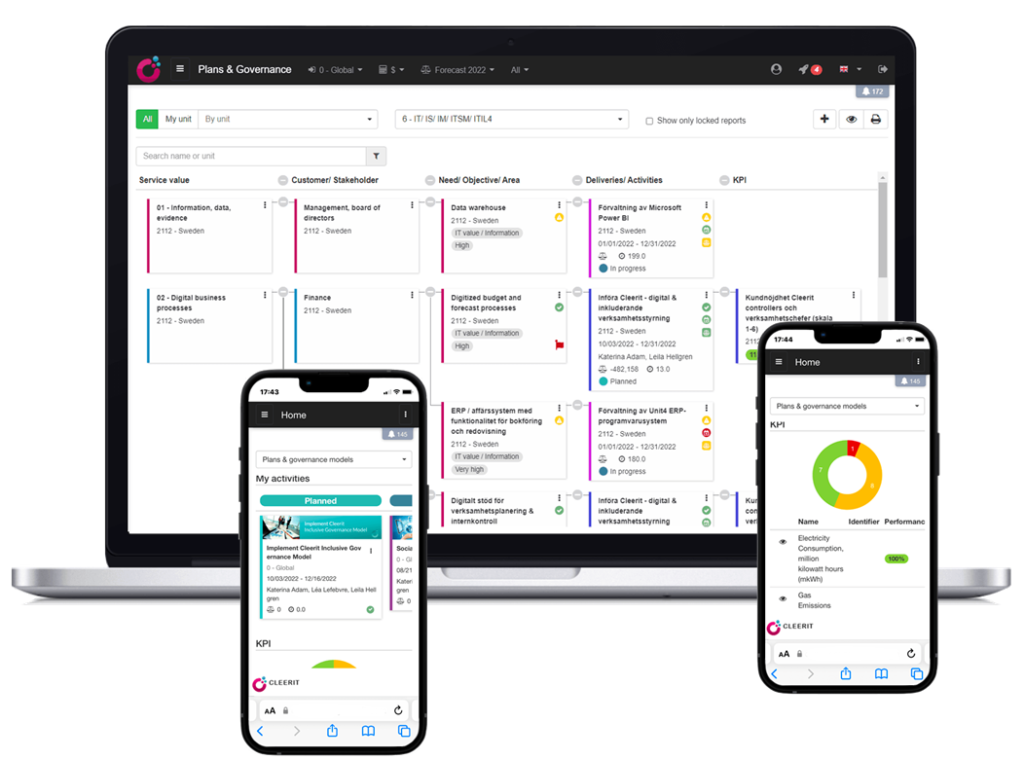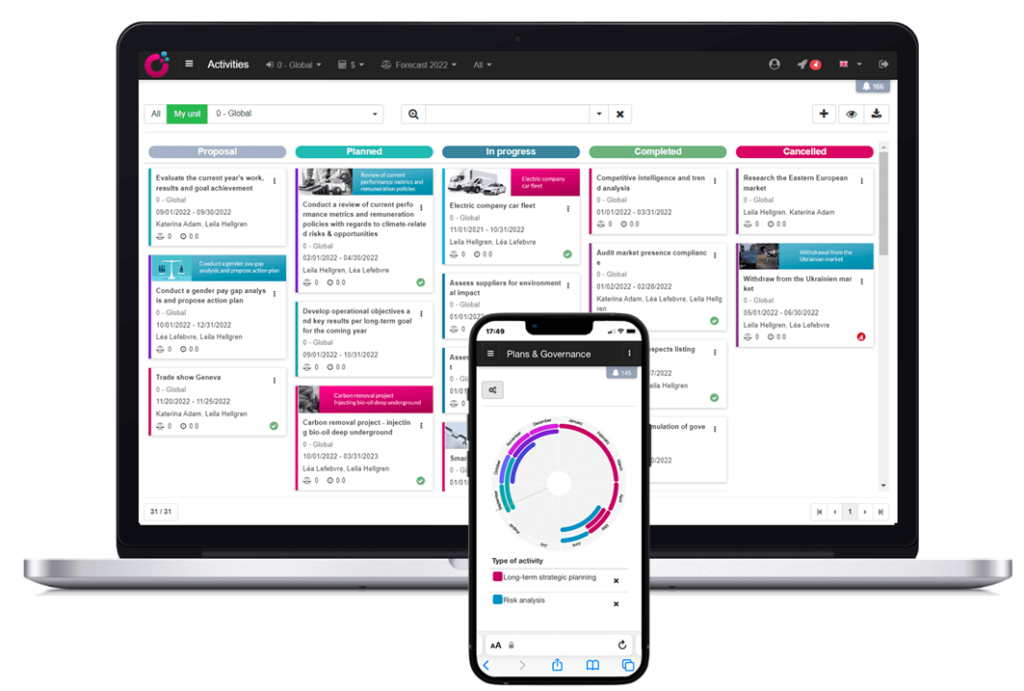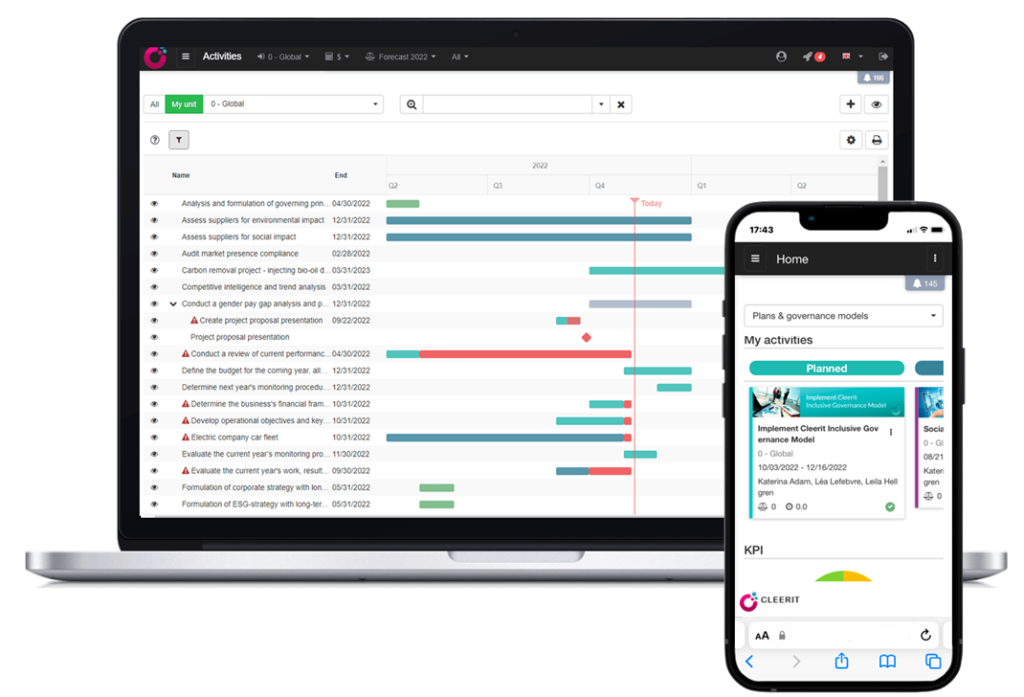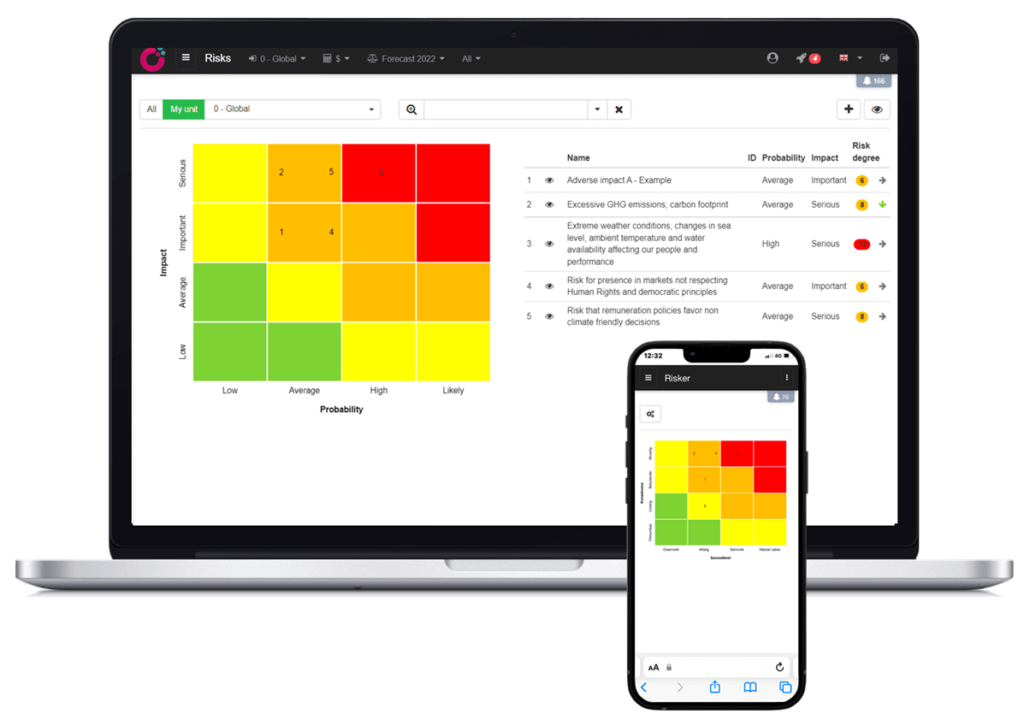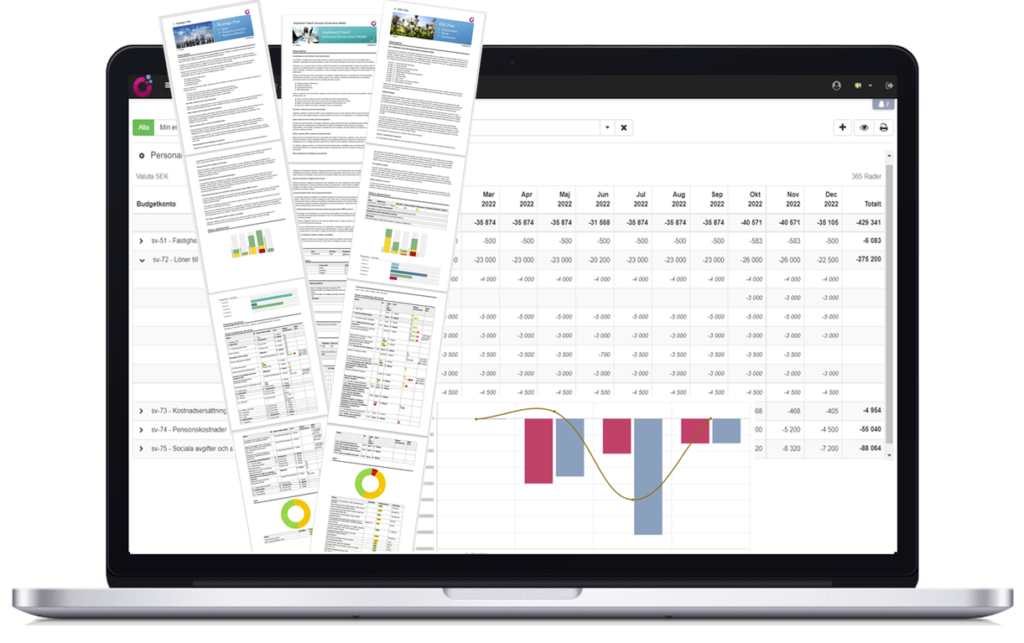 ---
More about ITSM, COBIT, ITIL 4 & agile delivery
What is ITSM, ITIL 4, DevOps, SAFe and COBIT?
ITSM, for Information Technology Service Management, focuses on defining, managing and delivering IT services to support the organization's objectives and customer needs. In other words, it is about the activities carried out by an organization to design, build, deliver, operate and control IT services offered to customers. ITSM is characterized by a process approach to management with a focus on customer needs and IT services for customers rather than IT systems, and emphasizes continuous improvement.
ITIL 4 is a framework of best practice to ensure the efficient and customer-oriented management of IT services first defined in the mid-1980s by the UK Cabinet Office.
The goal of the ITIL framework for effective and customer-oriented management of IT services is to promote
a constructive and inclusive relationship between IT supplier and IT customer
IT services that meet customer requirements, including stable delivery and successful change over time
continuous improvement of IT services, processes and resource optimization over time
ITIL best practices are also used as the foundations of ISO/IEC 20000, the International Service Management Standard for organizational certification and compliance.
ITSM and ITIL are not mutually exclusive, they complement each other.
DevOps is a set of work processes, methods and tools, to support the development, deployment and maintenance of a software. Dev = "development", Ops = "operations". DevOps help shorten development cycles and allows developers to automate operational tasks and incident management.
SAFe (for Scaled Agile Framework) is a framework for agile working methods and values with the goal of creating collaboration between several agile teams and thus giving larger, complex organizations the opportunity to benefit from agile system development on a larger scale. SAFe has been developed for three primary knowledge groups: agile software development, lean product development and systems thinking.
SAFe provides guidance for all levels of the organization actively engaged in software development: Team, Program, Large Solution and Portfolio that should result in greater alignment and visibility across the organization. Along with large-scale Scrum (LeSS) and disciplined agile delivery (DAD), SAFe is one of a growing number of frameworks that attempt to address the problems that arise when multiple teams are involved in the development process.
ITSM, ITIL, DevOps and SAFe are not mutually exclusive; each approach has its own goals and functions.
Unlike SAFe, ITIL is not descriptive, which means that the framework does not provide answers to HOW things should be done, but WHAT should be done to ensure success. SAFe is highly prescriptive and describes in detail both what needs to be done and how (also includes a dedicated implementation plan). Both SAFe and ITIL have their own values, although most of them overlap.
COBIT is a framework for the governance and management of information and technology (EGIT – Enterprise governance of information and technology), aimed at the whole enterprise. Enterprise I&T means all the technology and information processing the enterprise puts in place to achieve its goals, regardless of where this happens in the enterprise.
The framework "COBIT® 2019 Framework: Governance and Management Objectives" has been designed and created by SACA® (isaca.org), a global association "helping individuals and enterprises achieve the positive potential of technology".
The COBIT framework makes a clear distinction between governance and management. These two disciplines encompass different activities, require different organizational structures and serve different purposes.
Governance ensures that:
Stakeholder needs, conditions and options are evaluated to determine balanced, agreed-on enterprise objectives.
Direction is set through prioritization and decision making.
Performance and compliance are monitored against agreed-on direction and objectives.
In most enterprises, governance is the responsibility of the board of directors, under the leadership of the chairperson. Specific governance responsibilities may be delegated to special organizational structures at an appropriate level, particularly in larger, complex enterprises.
Management plans, builds, runs and monitors activities, in alignment with the direction set by the governance body, to achieve enterprise objectives.
In most enterprises, management is the responsibility of the executive management under the leadership of the chief executive officer (CEO).
COBIT® 2019 includes 40 governance and management objectives, organized into five domains separated inte governance and management.
Governance
Evaluate, Direct and Monitor (EDM)
EDM01—Governance framework setting and maintenance
EDM02—Benefits delivery
EDM03—Risk optimization
EDM04—Resource optimization
EDM05—Stakeholder engagement
Management
Align, Plan and Organize (APO) addresses the overall organization, strategy and supporting activities for I&T.
Build, Acquire and Implement (BAI) treats the definition, acquisition and implementation of I&T solutions and their integration in business processes.
Deliver, Service and Support (DSS) addresses the operational delivery and support of I&T services, including security.
Monitor, Evaluate and Assess (MEA) addresses performance monitoring and conformance of I&T with internal performance targets, internal control objectives and external requirements.
COBIT does not make or prescribe any IT-related decisions. It will not decide what the best IT strategy is, what the best architecture is, or how much IT can or should cost. Rather, COBIT defines all the components that describe which decisions should be taken, and how and by whom they should be taken.
ITIL, SAFe and COBIT can be used separately, but together they create synergies that increase the overall value for the organization.
Parallel to these international frameworks there are privately owned models such as pm³ and PPS.
pm³ is owned by the Swedish company På AB and is a management model for handling IT management tasks.
PPS (for Practical Project Management in Swedish), is a relatively complex project model developed by the Swedish-Finnish company Tieto (now TietoEvery). The model focuses on What is to be done, How it is to be done and Who is responsible, and also focuses on achieving project goals, impact goals and strategic goals. PPS achieves this by offering support in the form of document templates, description of phases, work areas and decision points and checklists, among other things.
More general approaches to governance also coexist with these more specific IT frameworks. For example, Project Portfolio Management (PPM) for the centralized management of processes, methods and technologies used by project managers and project management offices (PMO) to analyze and collectively manage time, resources, skills and budget for ongoing and proposed projects.
With Cleerit, you do not have to choose between frameworks and methods, you can start where you are today and create an integrated and collaborative model for managing the IT department's work, services, deliveries and projects, linked to the organization's strategic goals and priorities. To reach your goals, one step at a time, every day.
Innovation is not about money. It's about the people you have, how you're led, and how much you get it.

Steve Jobs
Why is the best practice according to ITIL to be inclusive and co-create?
Organizations where management and operations entrust the IT department to take sole responsibility for the organization's IT solutions tend to incur extensive technical debt. This debt is costly and complex to address. A high technical debt means that the flexibility, ability and competitiveness of the organization is hampered.
When new conditions and needs arise, they cannot be taken care of as quickly as the operational management would like. The IT department can be busy bringing order to weak and/or complex environments. The technical debt must be managed first before new features can be delivered in existing or new services. Technology then becomes an obstacle for what is to be realized.
By co-creating value, IT Service Management according to ITIL means that operations and IT must take joint responsibility for both strategic, operational and IT results. This is clarified through the concepts of services' Outcome, Output and Activities, where the Outcome focuses on value & needs and Output on the IT department's work and deliveries to meet those needs.
Co-creation with Cleerit means that the organization can fulfill needs and requirements to a greater extent. Technical debt is minimized and increased flexibility leads to improved overall results.
IT Service Management according to ITIL 4 with Cleerit
With Cleerit, your work is clearly structured supporting inclusive work methods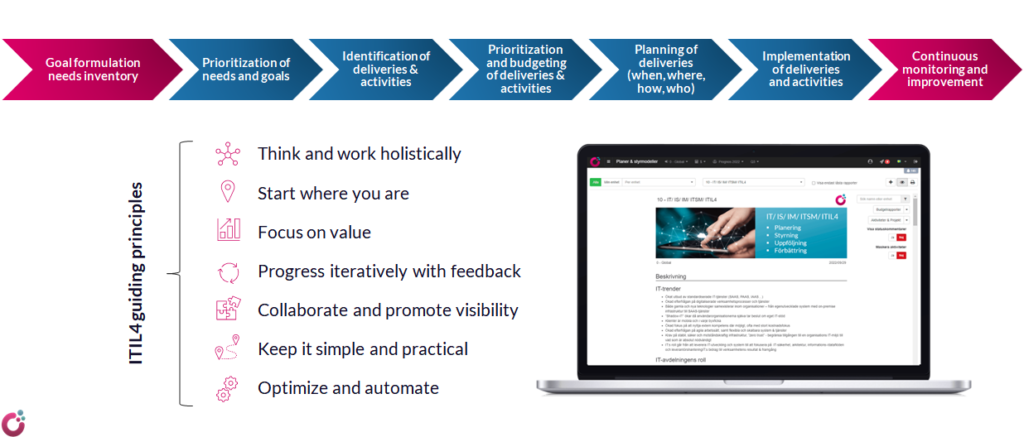 Cleerit – a governance system for the delivery of value through IT services & products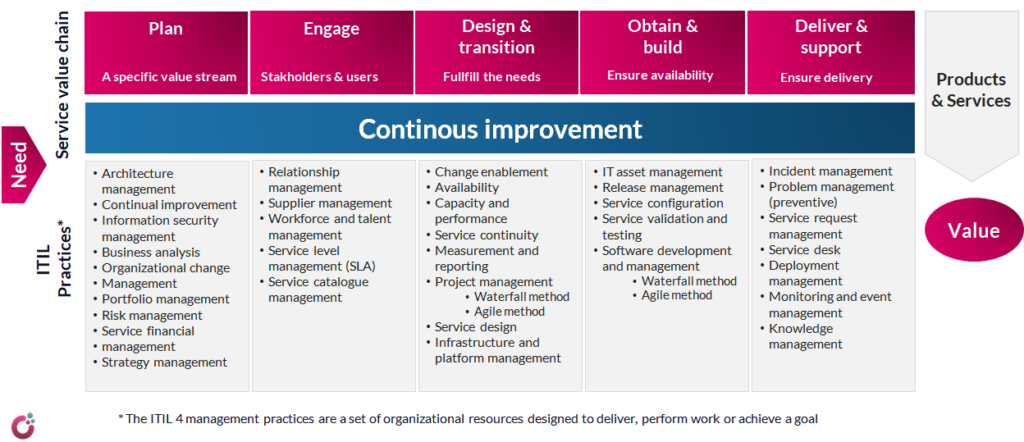 Effective IT service management is about more than managing technology. It also includes different parts of the organization and personnel, the organization's relationship with service providers and partners, and the various processes and technologies used within the organization. These important parts are defined as the four dimensions of service management in the ITIL 4 framework and in Cleerit.
Organizations and people
Includes the individuals, roles, knowledge, skills and abilities involved in the provision of IT services. May also include customers, service providers, supplier employees and other stakeholders in the service relationship. Leadership, communication, and a culture that encourages collaboration and helps individuals understand their contribution to creating value for customers and stakeholders are also covered by this perspective. With Cleerit's inclusive work processes, you easily involve all stakeholders in the service relationship.

Information and technology
Includes the technologies that support service management, workflow management systems, innovations, knowledge bases, analytical tools and communication systems, as well as the information that is created, stored, managed and used by the organization in the delivery of IT services.

Partners and suppliers
Covers the organization's relationships, contracts and agreements with other organizations involved in the design, delivery and support of IT services. With Cleerit's inclusive work processes, you get closer to your partners and suppliers and can offer faster and more qualitative IT deliveries.

Value streams and processes
Defines the activities, workflows, controls and processes that work together to provide IT services to achieve agreed upon objectives. With Cleerit's inclusive and seamlessly integrated management model, all these components work together to ensure goal achievement.

External factors
Service providers do not work in isolation; they are affected by external factors that can affect how the dimensions work. These include political, economic, social, technological, legal and environmental (PESTLE) factors. These external factors limit or influence how organizations work with the four dimensions of service management. By linking the IT department's strategic plan to the organization's overall strategies and ESG goals, you can take advantage of new opportunities while reducing the risk of unexpected threats in the outside world.
Read on to know more about the features Cleerit offers to succeed with your strategic IT work: