Marketing planning that turns strategies into reality and delivers results
When you have a clear marketing plan with campaign, budget and resource planning that is based on your strategies, all marketers can invest their time, knowledge and commitment in what is needed to deliver customer experiences that match the brand promise and expectations, and contribute to the entire business' sales success. and satisfied customers.
Do you manage your marketing plans and campaigns with Excel, PowerPoint, meetings and e-mail, but want a solution that takes advantage of the opportunities that digitalisation offers for more efficient marketing planning? Then Cleerit is the solution for you.
With Cleerit, you digitize your marketing plans – but also your resource planning, budget and performance monitoring – aligned to your strategic goals.
Define and distribute your marketing goals
Manage your marketing projects, activities and go-to-market
Manage and follow up your campaigns
Create and follow up on your marketing budget
Measure and analyse your results with flexible reports and KPIs
Analyse and prevent marketing risks
Improve collaboration and knowledge sharing
Simplify reporting and ensure access to key information in real-time
You are most welcome to contact us to know more about how Cleerit can support you in planning and following up on your marketing plans.
---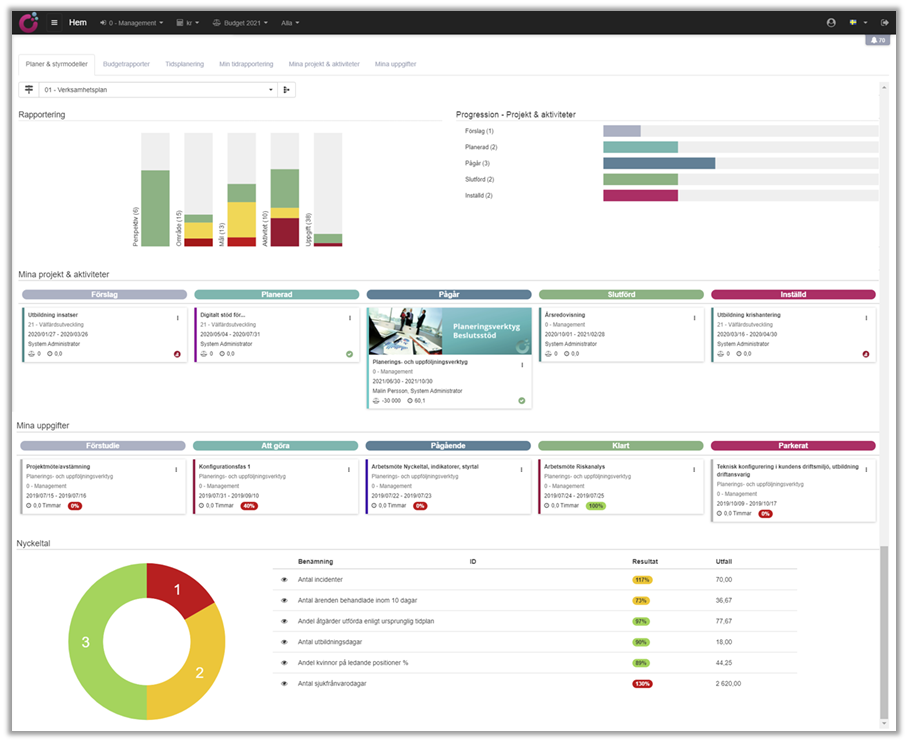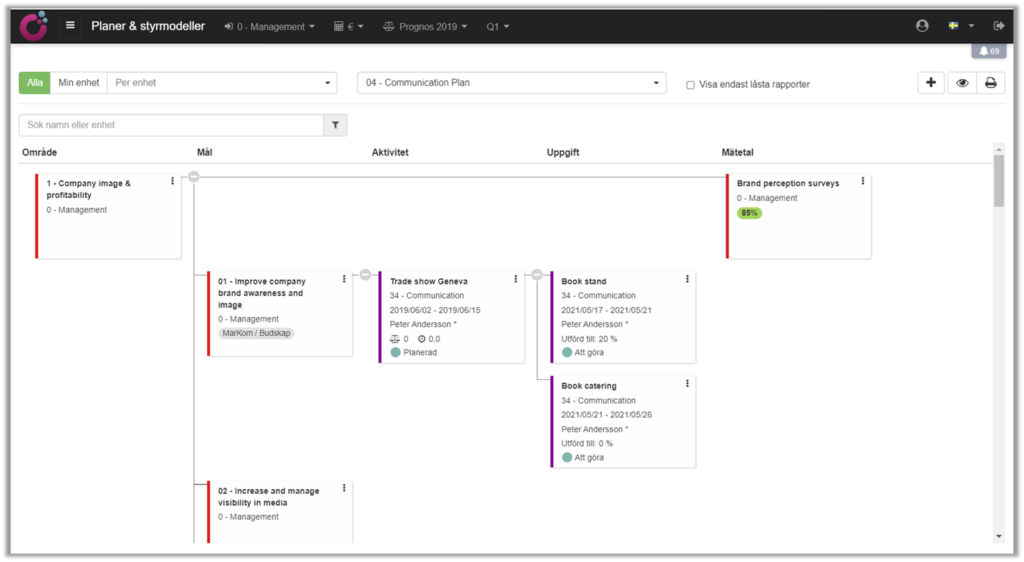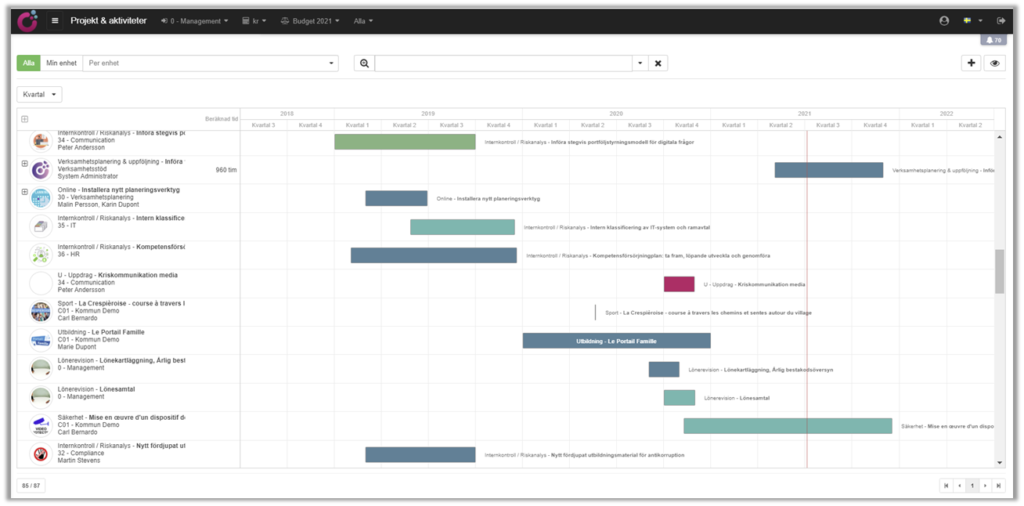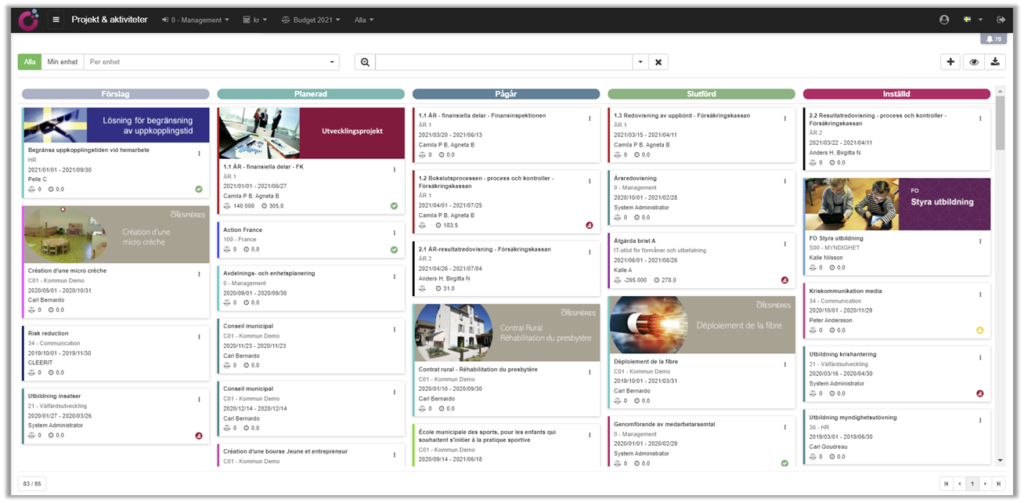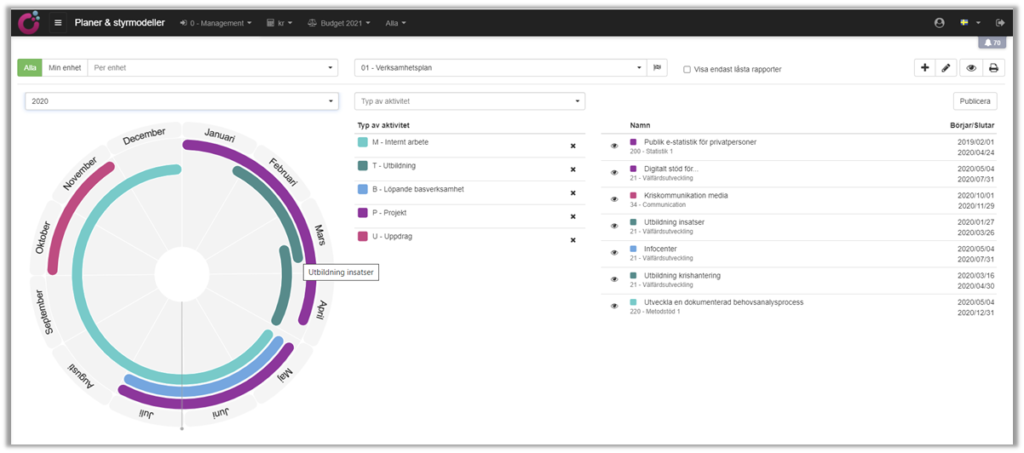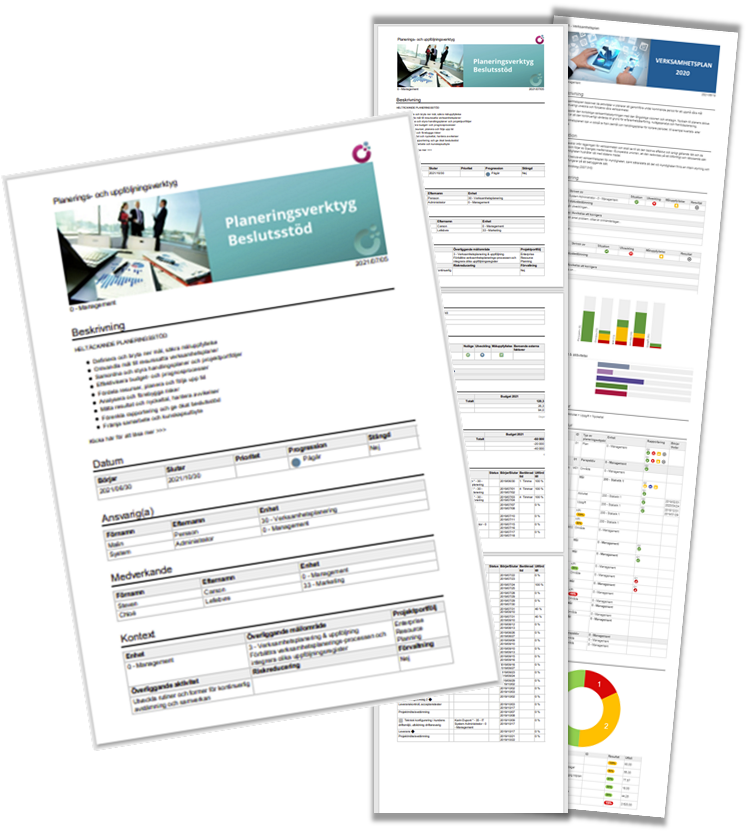 ---
More

about marketing planning with Cleerit
The marketing plan is an important part of the business plan
The marketing plan defines how the company will present itself to the market, i.e. how to attract more customers and retain existing ones, both in the short and long term. It specifically describes all the steps to sell a product or service.
It is an important tool that helps you convey the right message to the right people, and turn leads into customers to create growth. But it is also about retaining existing customers. Research shows that it is 5 times more expensive for a company to convince a new customer than to convince an existing customer to buy again.
A marketing plan can be short or long and extend over the next year or longer. Designing a marketing plan is also useful in itself as it often generates new thoughts, ideas and initiatives that can take the company forward.
The marketing plan always takes its starting point in the marketing strategy, which is a targeted effort to convey a brand's message, product or service to a specific audience. Renowned marketing guru Philip Kotler defined the marketing strategy as the way in which the marketing function organizes its activities to achieve profitable sales growth at a market mix level.
A clear marketing plan helps you define and distribute your goals, prioritize, allocate resources and responsibilities, design and coordinate activities and campaigns. And last but not least, to measure results, efficiency and goal fulfilment. With Cleerit, you can easily create a clear marketing plan that will help you reach your goals.
Focus on the right message for the right people at the right time.

Russell Glass
Good overview and reliable decision support with an integrated solution for marketing planning & follow-up
With Cleerit, the central marketing department can plan and coordinate streamlined marketing planning processes throughout the organization in close collaboration with the local marketing managers. You get a modern solution that integrates the functions you need to implement and follow up on your marketing strategy.
If you have the overall responsibility of managing the marketing department you will get a better overview of all marketing activities, whether the department is in one location or spread all over the world. You will have an overview that shows the full picture and in-depth detail to support you in prioritising and making informed decisions as you lead the teams towards market goals, attracting customers and driving sales results.
You will be able to easily create clear and flexible reports that show how the marketing department contributes to the strategic goals of the organization as a whole as well as your various business areas and functions. It will be easy to follow up on how you allocate your budget and the results you achieve.
Translating the marketing strategy and goals into a marketing action plan with resource planning, budget, risk analysis and project management
With the goals as a basis, and based on your target groups, you easily create your marketing plan in Cleerit and get a visual chain that shows how strategic areas such as target groups, market segments and product launches, are logically linked to goals and activities. You can easily follow up on status, progression and goal fulfilment.
As you plan your marketing activities and projects it is also important to include an analysis of market risks to avoid unpleasant surprises. It is about being ready for events that may affect your strategic market goals and comprises everything from competitors, political instability and customer loyalty. Register your market risks, analyze impact and probability, prevent and follow up with an integrated risk plan.
Turning strategies into reality also requires that you distribute the resources to where they are most useful. Therefore, activity-based time and budget planning are important components in Cleerit. Should you not want an activity-based budget you can also make a traditional staff budget and add additional costs such as advertising or market research.
You avoid manual time-consuming planning templates and can automate your planning processes to achieve an optimized resource allocation, faster results and higher reliability.
Working towards common goals, day to day
As an operational marketing manager, you get a clear overview of how campaigns and marketing activities are progressing. To your help, you have overviews, schedules and status reports. It becomes clear what should be done, why, by whom, when and within what time and cost framework.
You and your team get a digital collaboration area where the daily work is linked to both strategic goals and budget. Functions such as goal maps, activity planning with Gantt schedules and kanban cards keep you on track.
For everyone it becomes clear how your work turns strategies into reality and allows you to easily follow up on all contributing activities. It provides the clarity, control and ability to act proactively to ensure that you spend time and money where it makes the most sense in order to fast-track to planned results.
Reports and KPIs will show how you contribute to the organisation, improve analysis and learning
With reports and metrics, status follow-up and progression, you have continuous access to data for analysis and decisions. This allows you to be agile and re-prioritize when needed. You can define KPIs and indicators, set target values ​​and compare outcomes for your campaigns and activities.
When essential information such as market initiatives, geographic markets, resource allocation, progression and results are gathered in one and the same solution, you can produce your own reports structured as you want and when you want. No need to wait for other BI-tools to provide the insights you need.
You always have access to analytical data that provides insights for better decisions based on facts, and a more qualified gut feeling. The marketing team can focus on the future, adjust plans and become a learning team that takes new steps towards higher market goals.
Read on to know more about the features Cleerit offers to succeed with your marketing plans: