Analyze performance, monitor progress, drive desired behavior and close performance gaps
What gets measured gets done
Create and monitor KPIs linked to strategic goals, priorities, activities and projects
Visualize KPIs in custom dashboards tailored to your needs
Report, measure and monitor key results in real time
Monitor progress towards goals and close performance gaps
Create action plans to improve performance and achieve your goals
Monitor and adjust the KPIs regularly towards your goals
Gather all your scorecards and OKRs in one place
Simplify collaboration and communication across the organization
With Cleerit you can quickly navigate through huge amounts of information, focus on the most important insights, share real-time evidence, manage discrepancies and close performance gaps.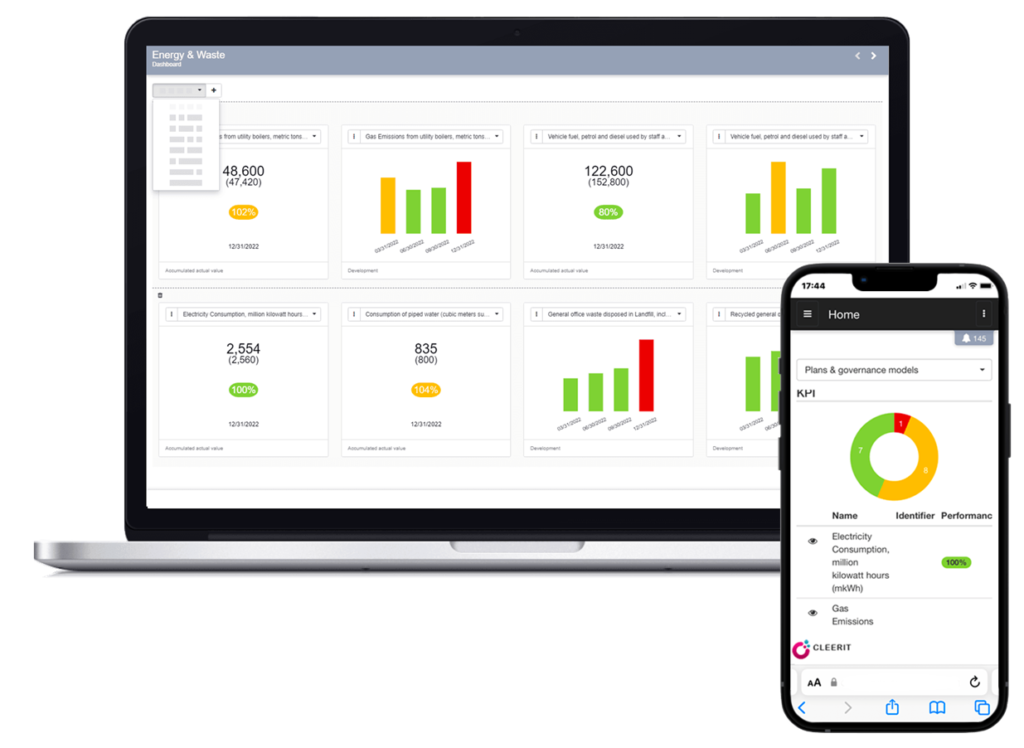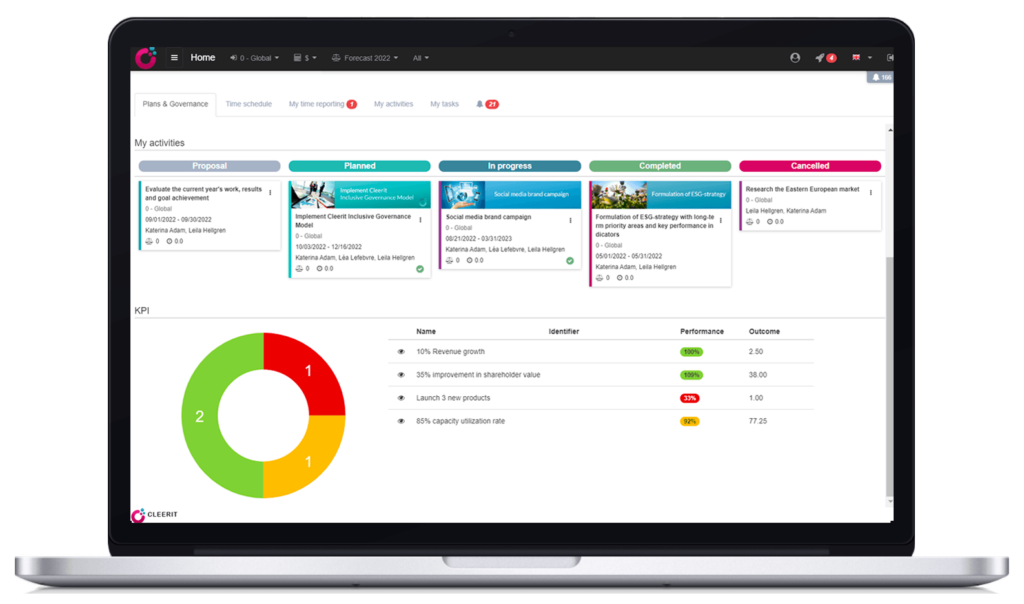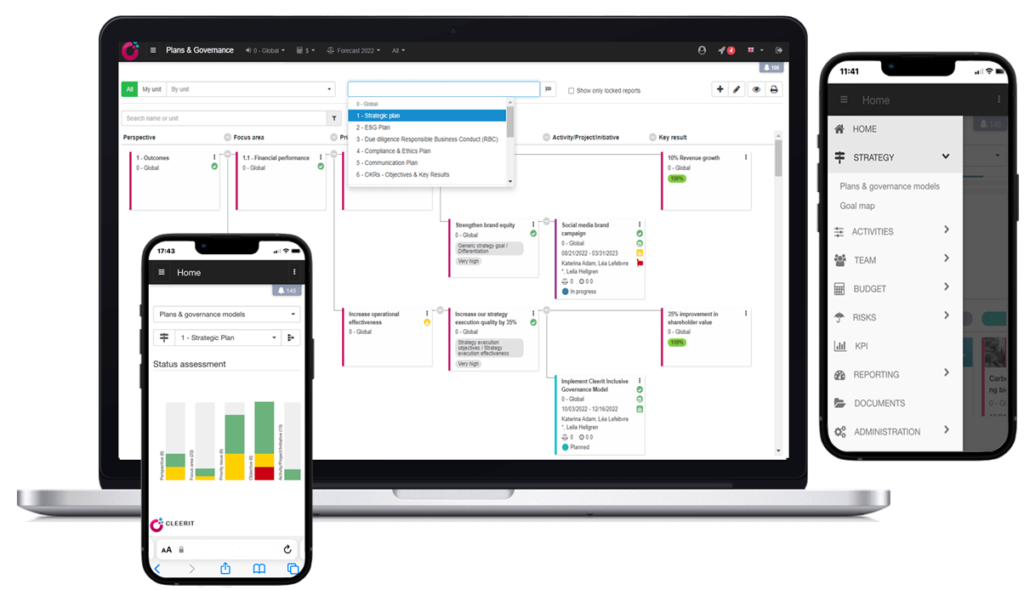 Don't guess, get the real picture with Cleerit!
---
More about KPIs
Make informed decisions and drive the right behaviors
Without Key Performance Indicators (KPIs) you run the risk of making inaccurate decisions. With the right KPIs, you get the support you need to make evidence-based decisions. KPIs also help you share key insights and drive the desired behavior in line with the organization's goals and strategies.
But KPIs may seem confusing and abstract, especially if you don't know how they are connected to your everyday reality. You may also end up tracking so many KPIs that you become overwhelmed by all the data. This can leave you feeling frustrated and discouraged, and you may even completely refrain from taking them into account when you make decisions.
It is therefore important to start small and focus on the most relevant KPIs, the ones who drive the organization in the right direction and help you focus on the right things.
With Cleerit you get relevant and reliable decision support when you need it
With Cleerit, you can create KPIs that are relevant to your specific organization, define target values and track results with dashboards created with an easy-to-use report designer.
Dashboards in Cleerit help you stay focused, communicate, monitor performance goals and get a quick overview of your most important KPIs in a collection of customized views.
The information is directly linked to your goals and daily activities and is updated in real time when the underlying data changes.
Choosing the right KPIs
The key to success is to find the right KPIs. If you choose too many, the result will be unclear and difficult to interpret, and the decision support less qualitative. A KPI should have a major impact on the result you want to achieve, and it is important that it can be linked to an overall goal, or a desired key result if you work with OKRs.
In addition to linking your KPIs to goals, it can be helpful to sort them into different categories depending on focus. There are, for example, KPIs that focus on driving down costs, those that focus on increasing revenue and those that focus on changing behaviors.
A good KPI is also easy to understand and has a strong connection to daily operations. Advanced mathematical formulas can be difficult to understand and then there is a great risk that they do not drive the right behaviors nor the right decisions.
The time aspect is also important. Avoid choosing a KPI that is measured too rarely. They should ideally be measured recurrently to be able to be compared over time so that progress towards goals can be monitored continuously.
With Cleerit you can link the monitoring of KPIs to the reporting periods you have chosen for your reviews, which means that you can easily relate the outcome to your financial results and operational action plans.
Last but not least, create an action plan and reward goal reaching
In Cleerit you can define the KPIs that are most important for each goal. This allows you to track success and set clear targets that define what success looks like.
Cleerit also lets you create an action plan that outlines how you will achieve your targets. Monitor and adjust the KPIs against your targets on a regular basis.
Last but not least, celebrate success and reward the achievement of targets and goals.
---
Read
more
Read more about how risk management can help you turn your strategies into reality.