Efficient, secure and inclusive internal control, governance, risk management and compliance (GRC) for trust and long-term success
Are you looking for a secure, flexible and inclusive solution to analyze, prevent and mitigate risks, manage governance, compliance and internal control processes? You have come to the right place.
Cleerit helps you plan, execute and monitor internal control, audit, risk management, regulatory compliance and governance processes, to support the management team in fulfilling its responsibility towards the Board, owners and other stakeholders.
Prevent irregularities and risks, and ensure that operations are managed effectively
Digitize you GRC plans, analyze risks, plan and distribute mitigating actions
Define and cascade goals for regulatory compliance and ESG issues
Manage your internal audit and due diligence processes with task boards and schedules
Manage budget and resource planning for GRC work and teams
Create reliable reports to the Board and its committees
Give the Board and the mangement team access to key information in real time
If you don't invest in risk mangement it doesn't matter what business you're in, it's a risky business

Gary Cohn – previously CEO and COO at Goldman Sachs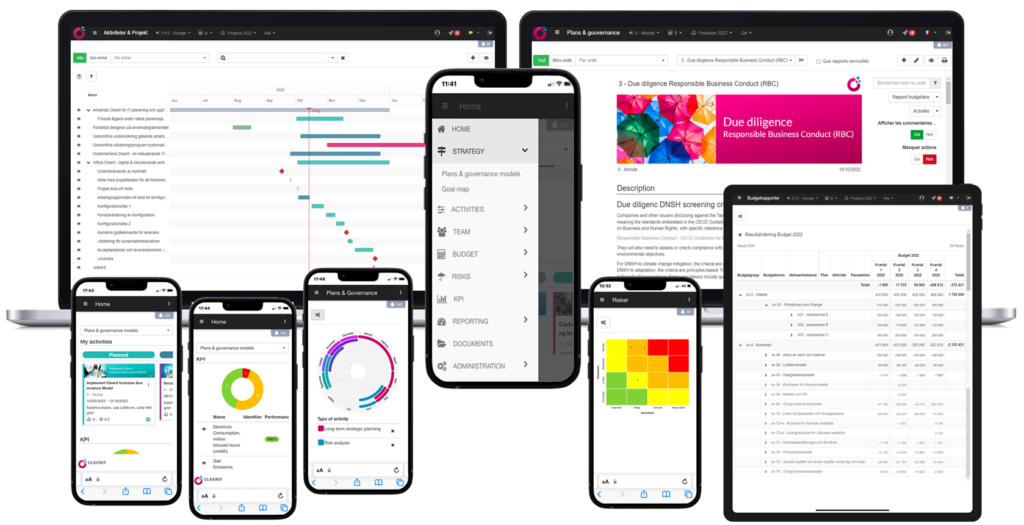 Welcome to contact us to learn more about how Cleerit can support your work with internal control, governance, risk management and regulatory compliance.
---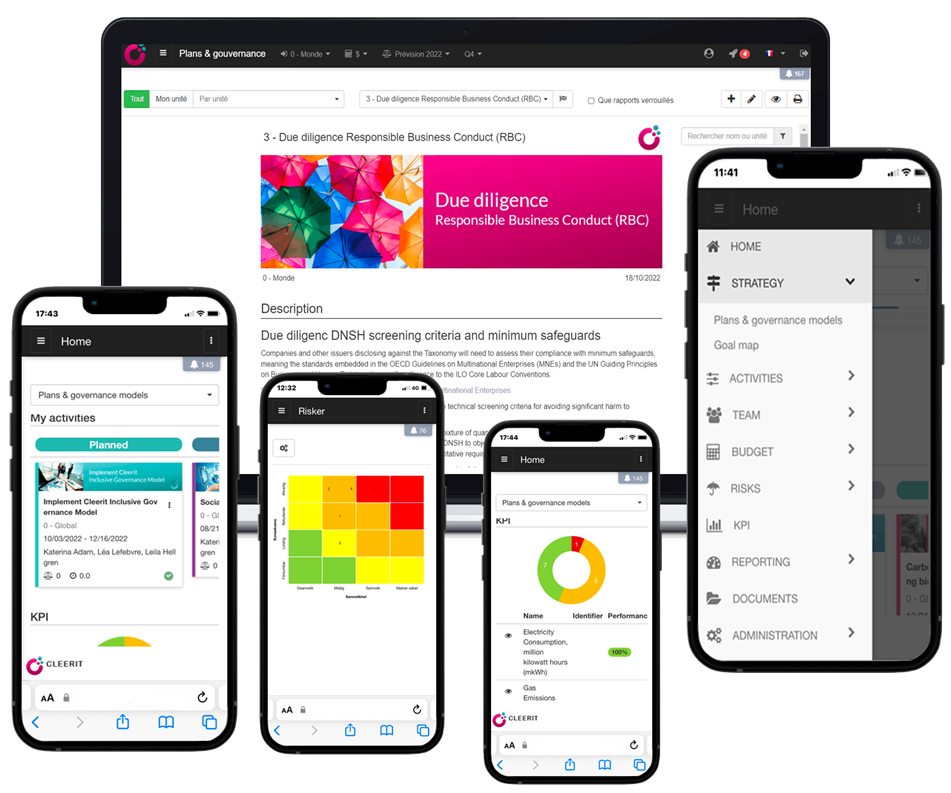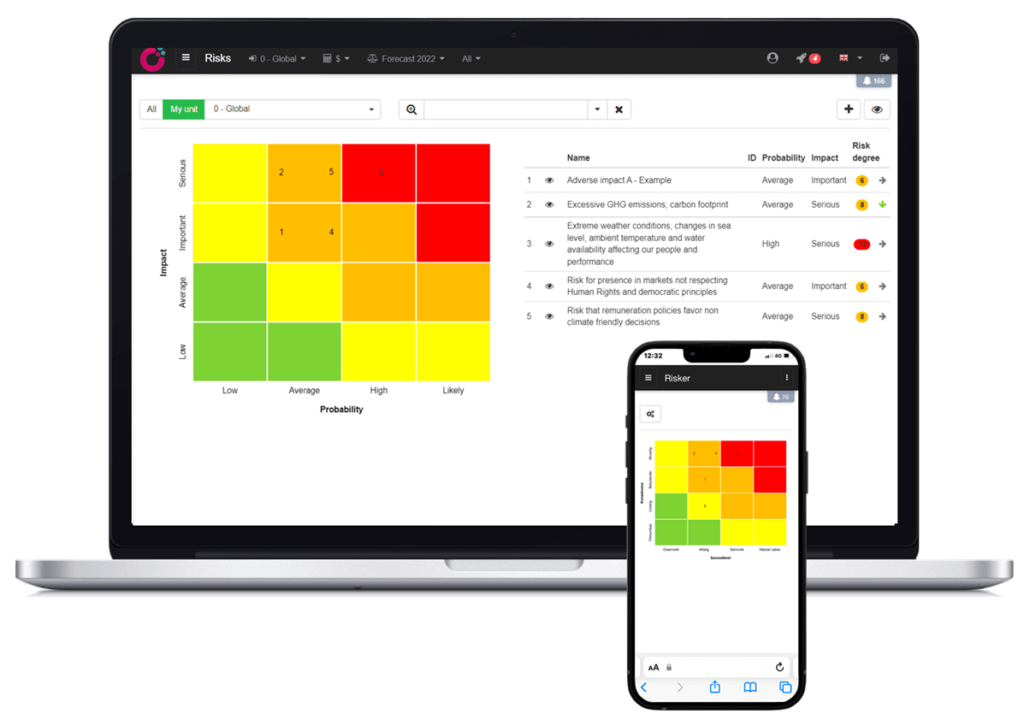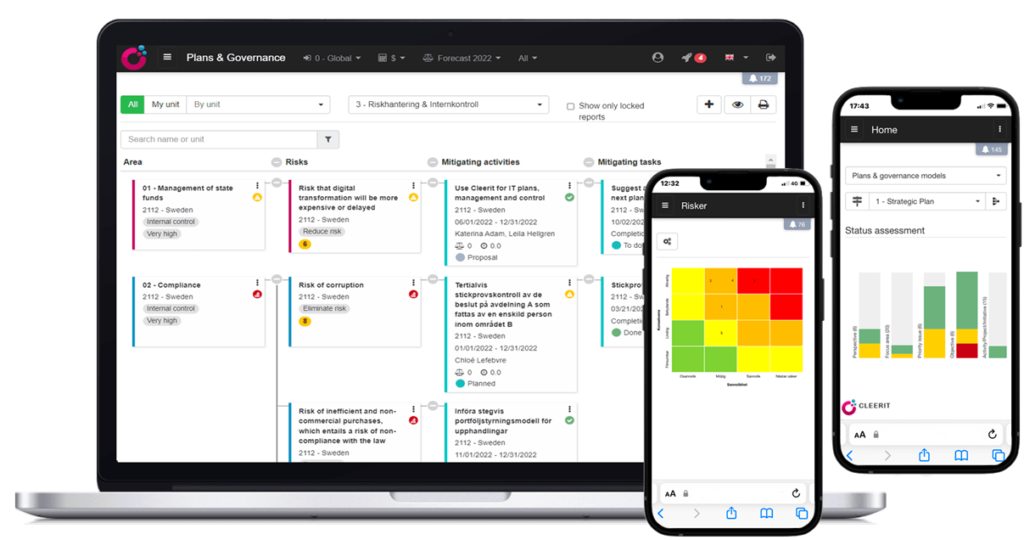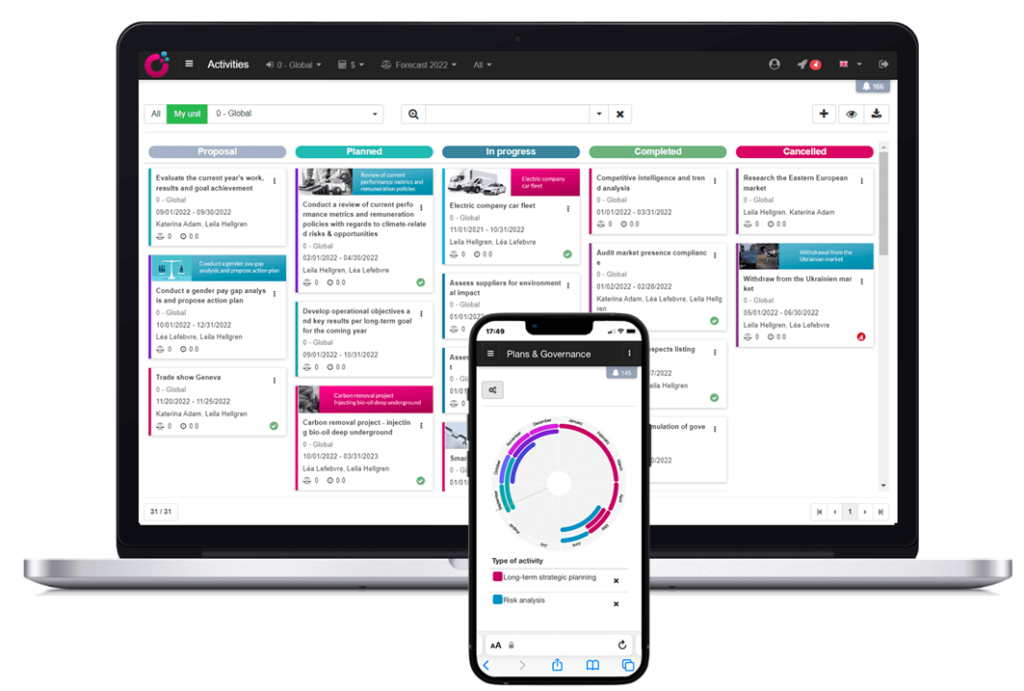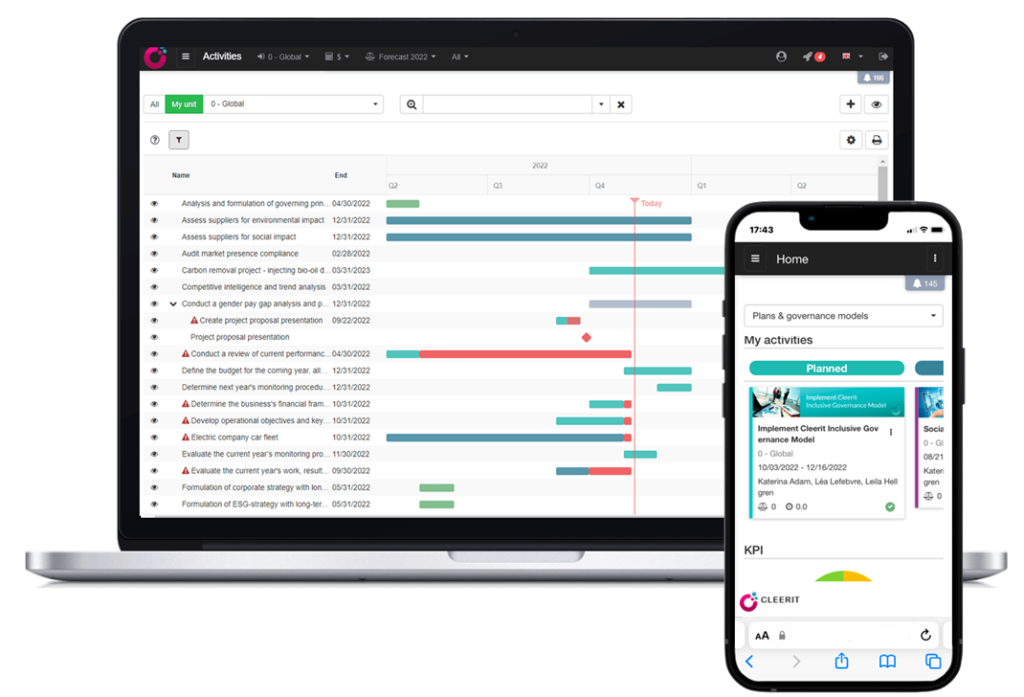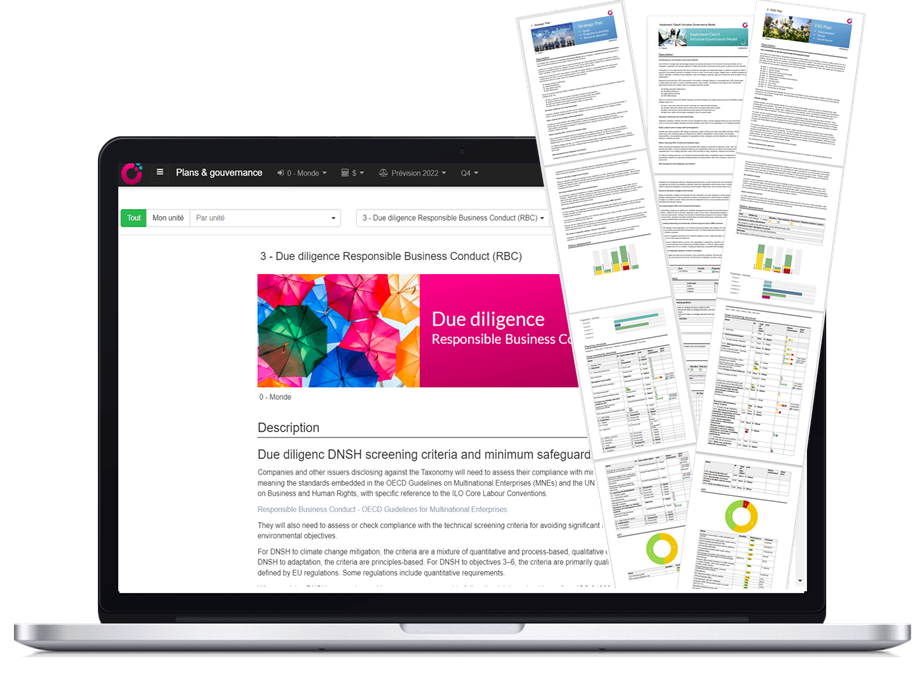 ---
More about Governance, Risk and Compliance
Governance – a balance of power
Governance affects the "balance of power" between owners, or shareholders, the Board and the management team. A shift in this balance was introduced in the 1970s when the Securities and Exchange Commission in the USA presented the need for reforms.
They advocated that businesses and organisations set up audit committees, nomination committees and compensation committees. This entailed, among other things, requirements that a proportion of the board members must be independent in their relationship to the management team. The term "Corporate Governance" was in the US Federal Register for the first time in 1976.
The real mechanism for corporate governance is the active involvement of the owners.

Louis Gerstner – previously chairman of the board and CEO at IBM
Some risks that are thought to be unknown, are not unknown. With some foresight and critical thought, some risks that at first glance may seem unforeseen, can in fact be foreseen. Armed with the right set of tools, procedures, knowledge and insight, light can be shed on variables that lead to risk, allowing us to manage them.

Daniel Wagner – Managing Director of Risk Solutions at Risk Cooperative, a strategy, risk and capital management firm
The responsibilities of the organisation are shifted from a narrow ownership interest to a broader stakeholder perspective with expectations on social responsibility
Ultimately, the framework for governance is about proactively preventing irregularities that threaten the existence of the organization, with negative effects for its stakeholders, including owners and wider society. The framework consists of laws, rules and codes that clarify the division of responsibilities between management and the Board, to secure the interests of the owners.
But it is just as much about promoting the organization's credibility in the market and in society, and GRC should therefore be seen as a strategic tool.
In addition, the stakeholder perspective has expanded over the years from a narrow focus on ownership interests to include workers, the market and the wider society with demands for social responsibility.
It is based on the assumption that consideration for other stakeholders is necessary to create long-term profitable companies and sustainable organizations.
This broadened perspective is not least noticeable in the increasing demands and often legal requirements that companies, in addition to the annual report, should also make an annual sustainability report.
We are seeing momentum building around the shift from companies focusing on shareholder return to thinking about stakeholder returns. When we see statements from the Business Roundtable in the US 'Redefining the purpose of a corporation' and the World Economic Forum's Davos Manifesto for 2020 'for a better kind of capitalism' we know that the message is getting through that our economic and financial systems must change, in order to address the sustainability challenges of our time."

Linden Edgell – Global Sustainability Director ERM
Well-structured processes for planning, executing and montioring internal control processes
Within the framework of governance, your organisation is responsible for performing internal control processes such as internal audits, risk analysis and ensuring compliance with regulations. With Cleerit, you can plan this work, define activities, link them to strategic priorities and goals, allocate resources, budgets and forecasts, and get support to manage and follow up on your mitigating activities and projects.
You can create action plans for activities such as internal auditing, compliance training, updating internal regulations and policies etc. You assign who is responsible for each activity, and support everyone in the team in their daily work with tools such as kanban boards and schedules, where they easily can update the status and progression of their work.
With an overview of the entire organisation internal control become more efficient
When the entire organisation uses Cleerit for planning, control and follow-up in alignment with the strategic goals, you get direct access to the data you need to perform your internal control.
This provides the overview and clarity needed to follow up that the business allocates the resources to the strategic priorities that the board has decided on. You can for example plan and implement internal audits faster and more precisely with continuous access to the entire organization's action plans, financial management and results.
Integrated risk management
Cleerit has an integrated risk management function to create your risk register, analyse risks and plan mitigating measures to ensure good risk management and compliance.
You get a consensus on your priority risks and can act proactively to eliminate unpleasant surprises that can affect your strategies and constitute obstacles to achieving your goals.
With Cleerit you can visualize and integrate risk management throughout the organisation.
Provide your Board and committees with increased transparency and reliable reports
Within the framework of governance, transparency is at the core, as well as providing the Board with good quality reports. With Cleerit, this is considerably simplified as you have continuous access to relevant and necessary data gathered in one place. You easily produce reports for the Board and its committees and are well prepared for reporting to your stakeholders all through the year.
As a management team, you do not need to wait for reports, you can easily log in and create favorite reports yourself to be up to date on the risk and opportunities, key results in relation to strategic priorities, as well as associated action plans, projects, budgets and forecasts. You continuously have a good overview and control over the entire organization, which helps you manage more effectively and easily prepare each board meeting.
Read on to know more about the features Cleerit offers to succeed with Internal Governance & Control, Risk Management and Compliance: