Plan budget integrated with your ERP, secure forecasts, automate personnel planning, allocate resources and follow up on time spent
Flexible agil financial planning, resource allocation support and personnel planning available to those who need it in real-time
Streamline and digitize your budget and forecasting processes
Allocate resources to where they contribute the most and adjust easily when needed
Distribute resources between units, initiatives, activities and projects linked to strategic goals
Generate an automatic personnel budget
Create reliable forecasts reflecting operational reality
Link revenues, expenses and investments to different dimensions, activities and projects to quickly gain a detailed understanding
Plan employee time and follow up on time needed for various activities and projects
Create flexible reports updated in real time tailored to your specific needs
Strengthen your employees' understanding of how their daily choices affect financial results
Gain in overview, clarity and control to be able to prioritize and make the right decisions
Work in the office, away or at home just as efficiently
Simplify collaboration and communication both within and across functional boundaries
With Cleerit you get ready-made, easy-to-use, secure and flexible functions for budgeting, forecasting, reporting and performance management, adapted to your specific needs, and connected to both operations and strategic goals.
---
Let go of manual work, be reliable, performant and agile with Cleerit!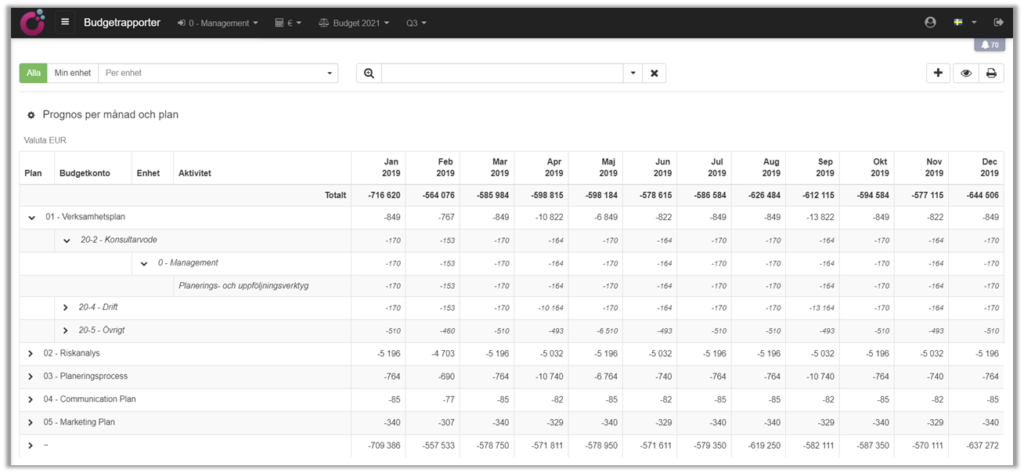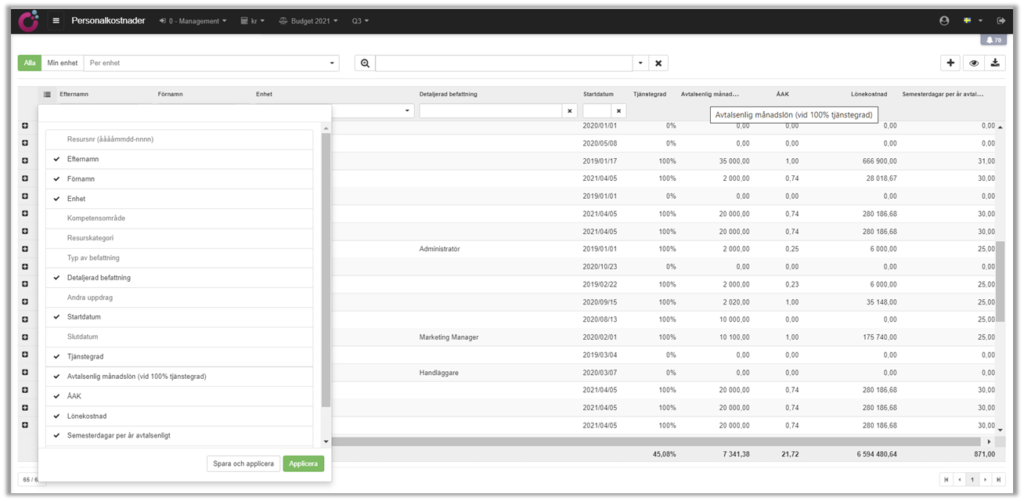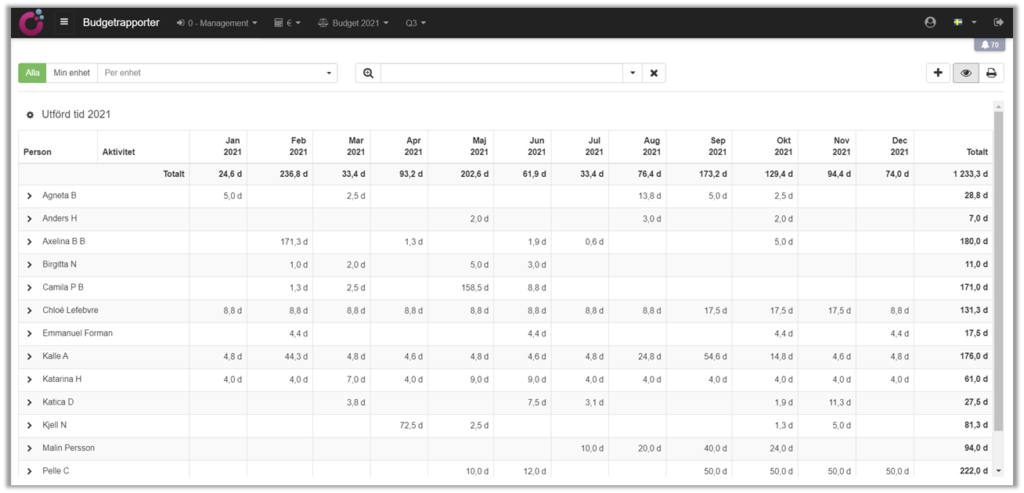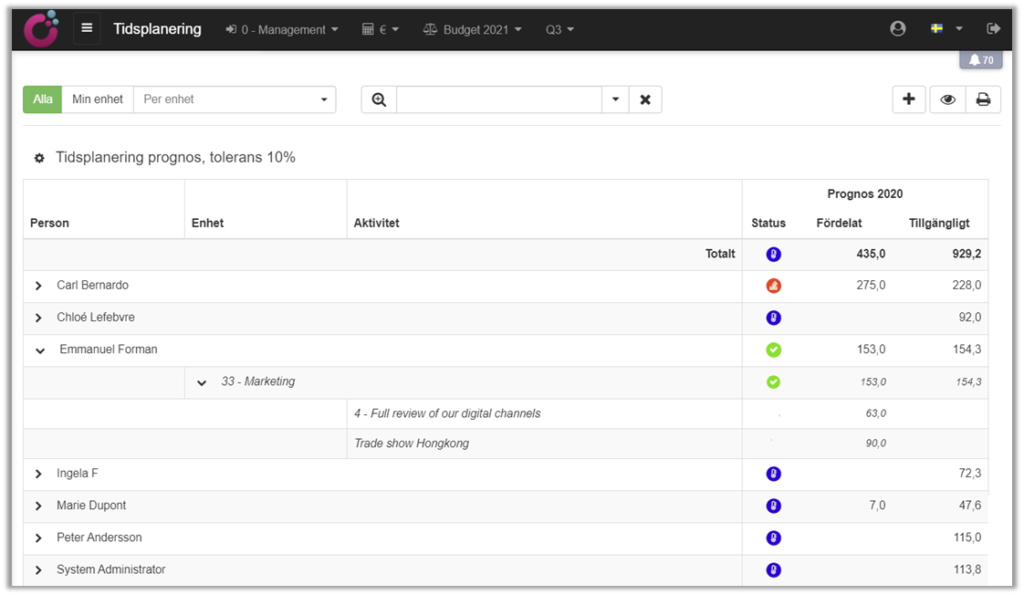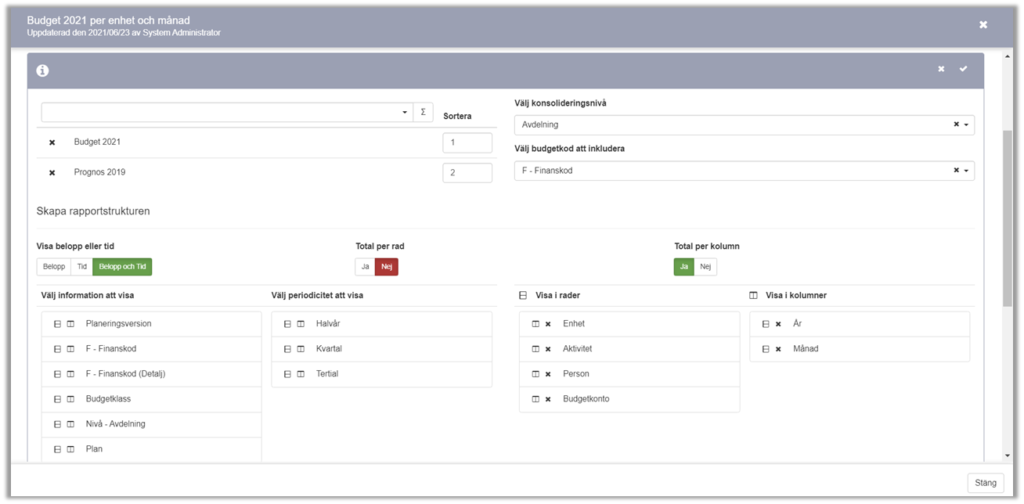 ---
More

about budgets, forecasts and resource planning
Agility increases results by 30% on average
Prioritizing, allocating financial resources, scheduling and staffing, are crucial to ensure that strategic goals and plans are implemented on time, progress in the desired direction, with the desired results and within given budget frameworks.
But resource allocation is not a one time decision, it requires ongoing adjustment.
According to a study by McKinsey, organizations that actively reallocated investments across units and initiatives achieved an average return 30% higher than the average return of organizations that were slow to shift funds.
But fewer than one-third of managers believe that their organizations reallocate funds to the right places quickly enough to be effective!
Do you still manage budget and forecast processes with manual Excel templates?
Despite the growing need for agile resource allocation processes Excel is still today, by far, the most common solution for budget and forecasting work, as most financial planning systems are not connected to day-to-day operations and cannot be used by all managers and team members.
Excel is a powerful tool, but processes are often manual and time-consuming. It is easy to make simple calculation errors. Real-time consolidation, collaboration and overview is complicated. The connection to strategic and operational goals is difficult to clarify.
Decision support is slower, less qualitative and less relevant than it needs to be.
With Cleerit you ensure agility and reliable forecasts reflecting operational reality
Cleerit provides a clear insight into how and what time and money are used for, and thus how resources contribute to achieving the defined goals. Team members gain a better understanding of their own role, both in day-to-day operations and in the overall strategy.
You can also plan employee time, scheduling and follow up on time needed and spent on day-to-day operations and initiatives, giving you a full overview of your resources.
You strengthen your teams understanding of how their daily choices affect both financial results and goal reaching and help them easily adjust allocations when needed.
Your forecasts will be more reliable as they reflect operational reality connected to strategy, creating relevant and integrated decision support for increased agility and performance.
With Cleerit financial controllers work hand-in-hand with operational managers
Cleerit makes activity-based budgeting easy, which leads to more reliable and agile budgets and forecasts.
You create a work environment where financial controllers work hand-in-hand with operational managers to allocate resources where they deem to be most profitable. Each providing the other with an in depth understanding of how operations and processes generate results, in the same solution! Thereby increasing both forecasting accuracy and return on investment.
---
Read
more
Read more about how key performance indicators can help you turn your strategies into reality.