Everything you need to plan for value-creating development and clearly identify the effects and benefits that you will contribute to society
Leave unclear strategies and uncertain outcomes behind you! With all your plans digitized and seamlessly integrated in one solution, planning is easier, more accurate and more efficient, and the journey towards planned outcomes faster and smoother. You get support to learn, improve and create value. And reach your goals, one step at a time, every day.
With Cleerit you get a real-time overview of your organization's priorities, teams, activities and performance – and support to plan, learn and excel – in one customized integrated flexible user-friendly solution. You can access all important functions you need to plan, manage and control strategies, operations and budgets throughout the entire organisation in one place. Your workflows become more efficient and agile when all processes interact seamlessly in one and the same solution.
As a bonus, you get a structured planning process with focus on benefit realization and creating added value. You can optimize the investments made in order to achieve common objectives, implement the changes you have planned and generate the desired effects.
Cleerit is the modern way to manage your organisation for maximum societal benefit
Define and distribute goals and assignments
Transform goals into resource-based action plans
Coordinate and manage activities & projects
Streamline budget and forecasting processes
Allocate resources, plan and monitor time spent
Measure results, progress and KPI:s, manage deviations
Follow up with continuous status updates and reports
Come prepared to your meetings
Simplify reporting and provide increased decision support
Analyze and manage risks and compliance
Encourage collaboration and share best practices
You are welcome to contact us to know more about how Cleerit can help you create reliable, relevant and agile planning, management, control and reporting processes in your organisation – both in the office, away and at home.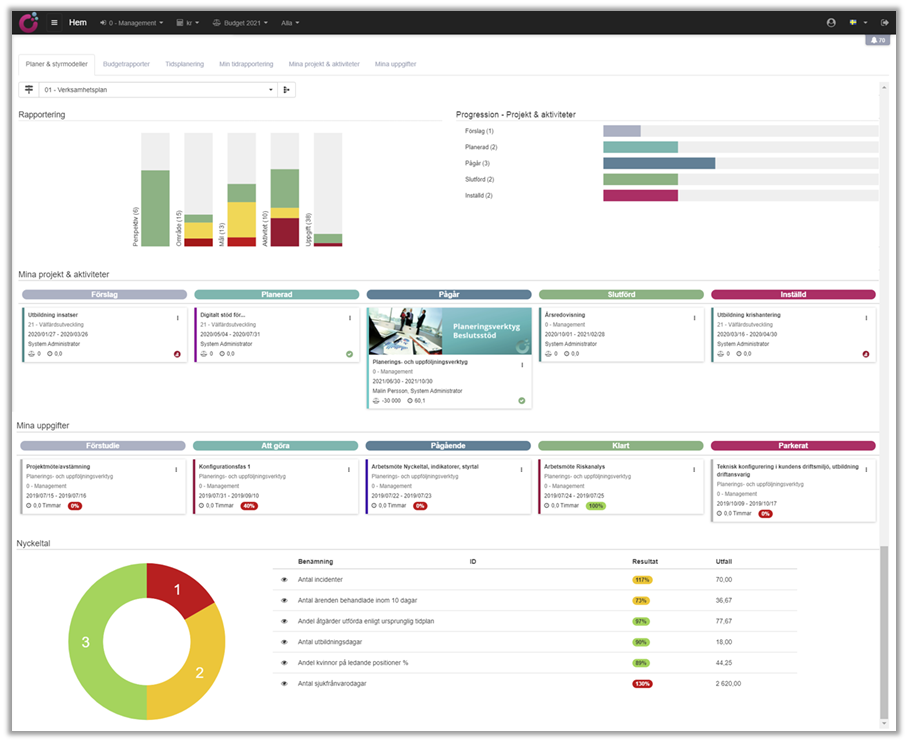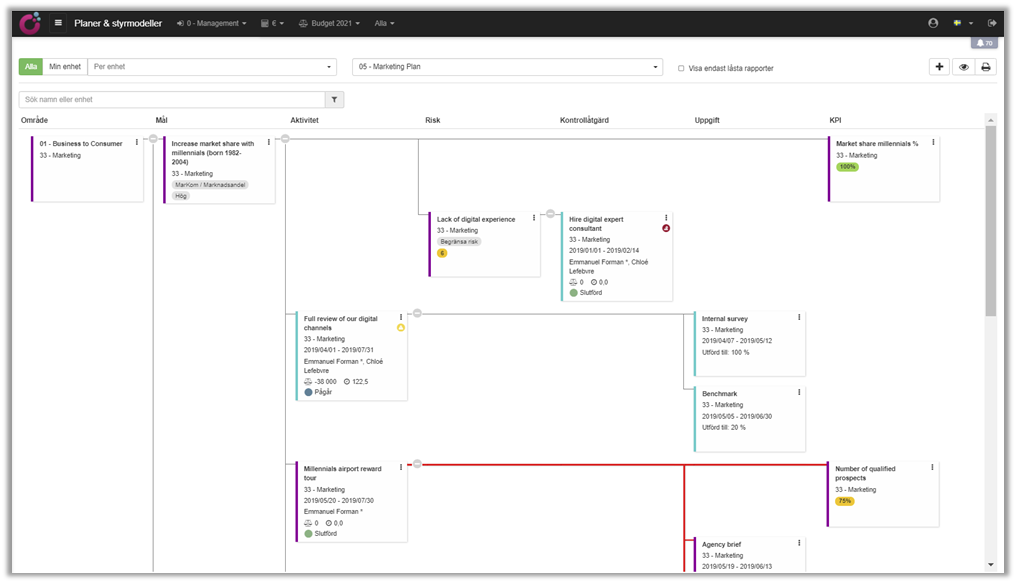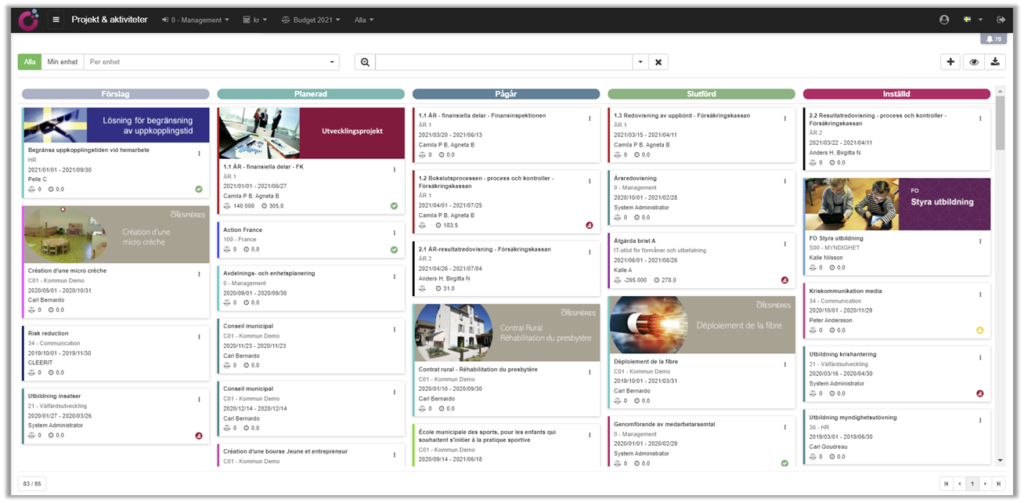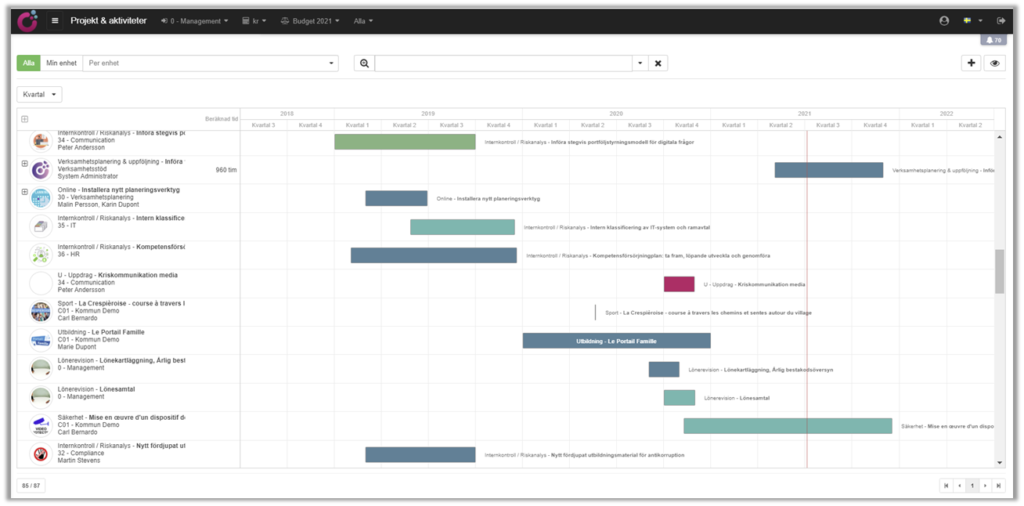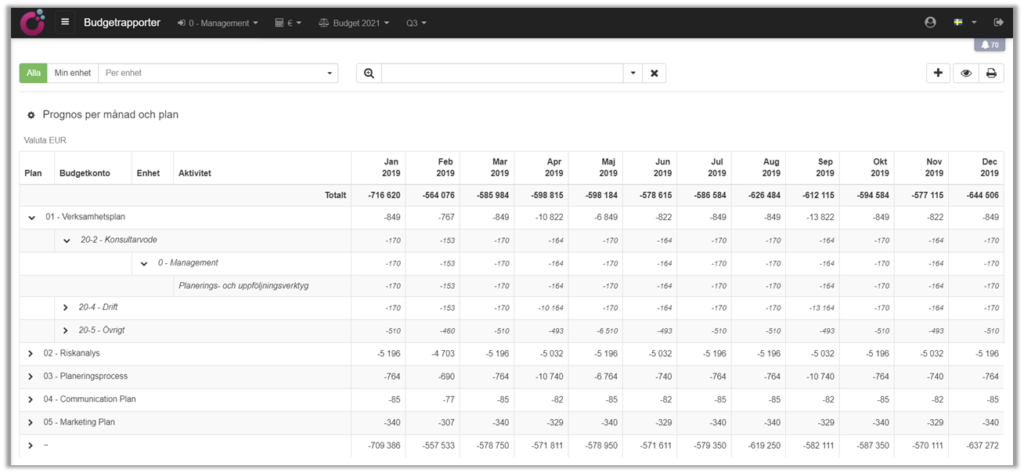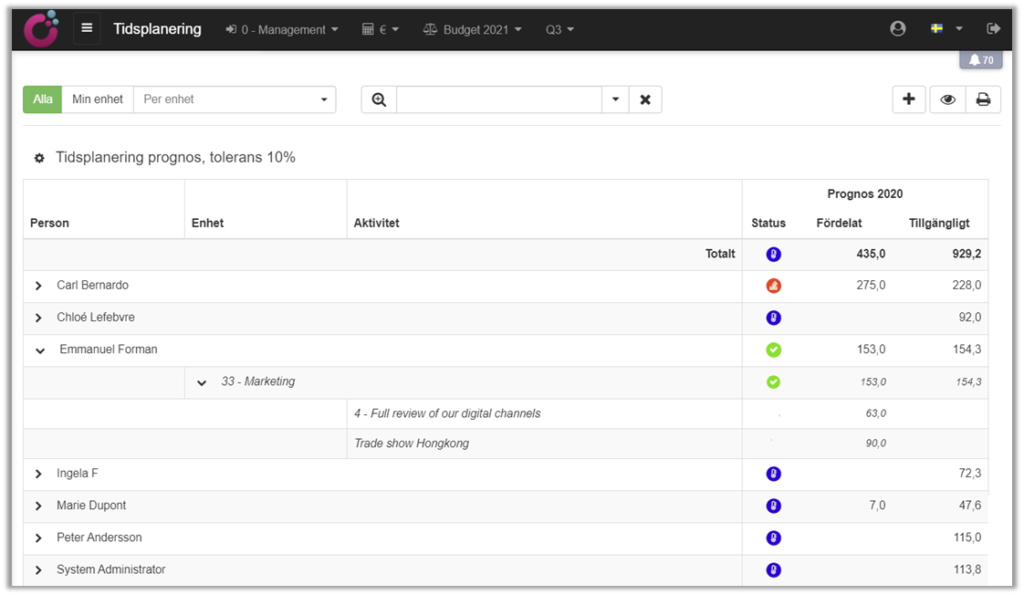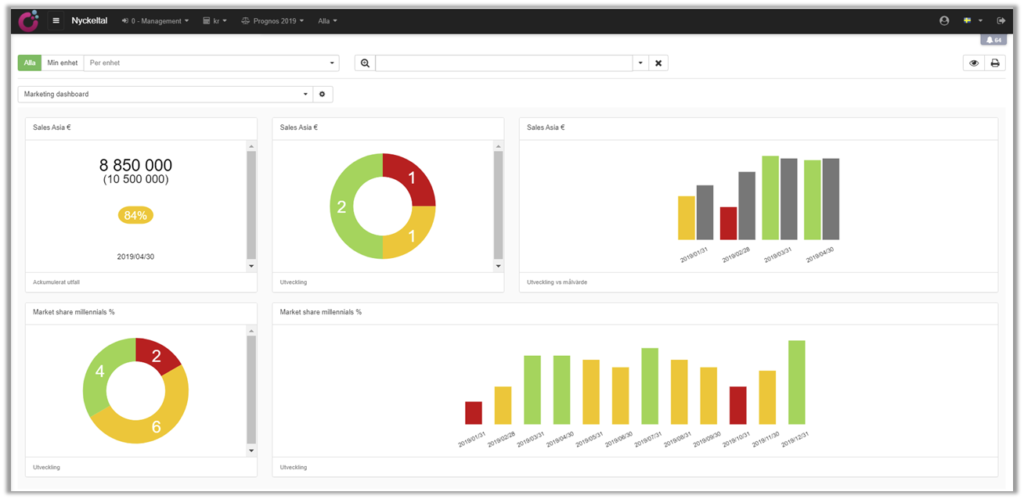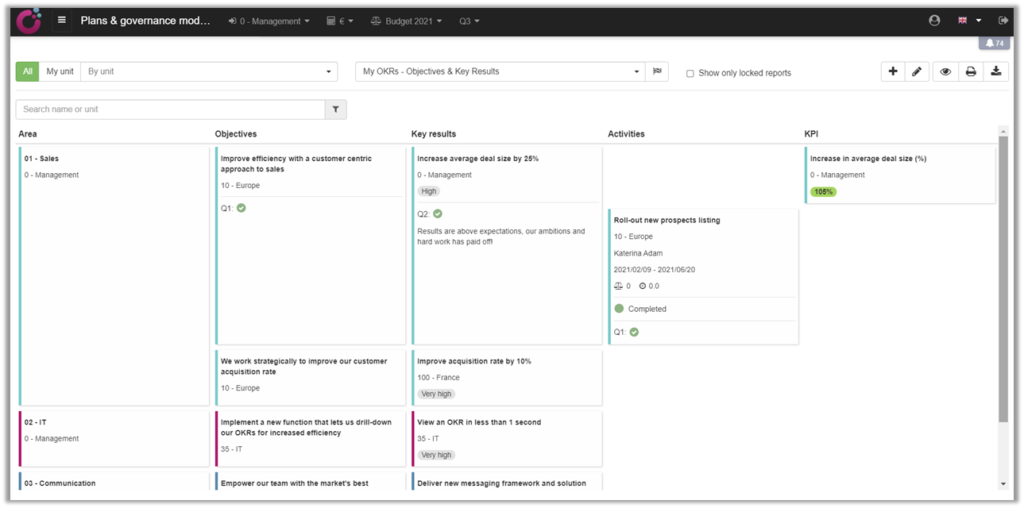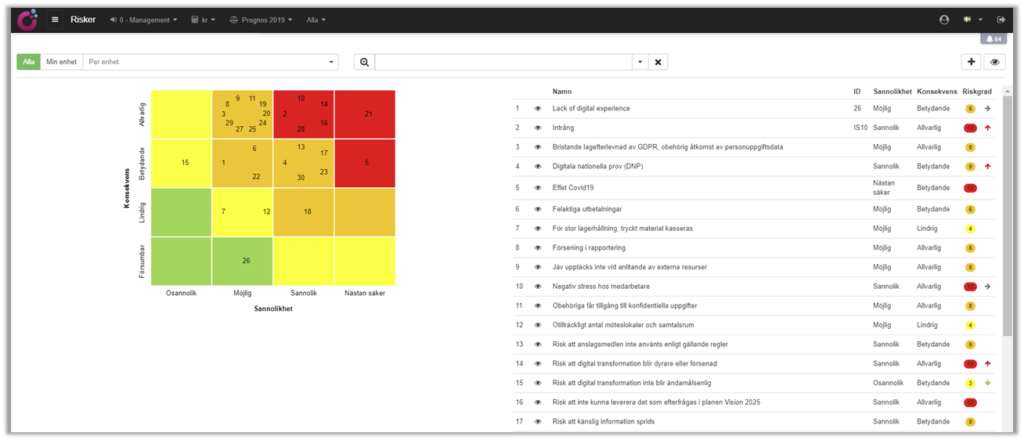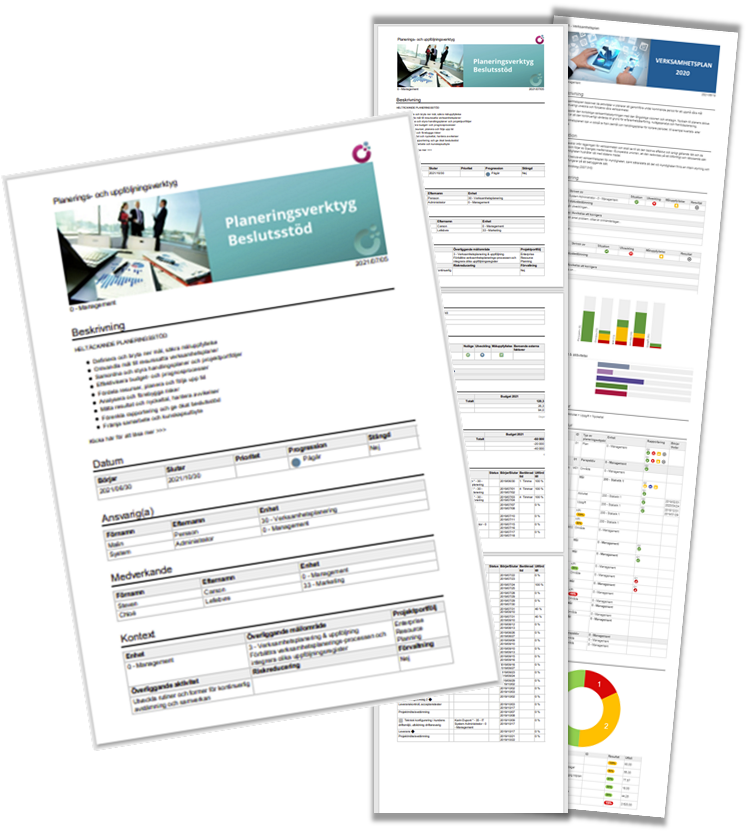 ---
More

about overview, clarity and control with Cleerit
A goal without a plan is just a wish.

Antoine de Saint-Exupéry 1900-1944 – French writer, journalist and pioneering aviator
When every day counts on the way to your goals
Starting with the big picture, Cleerit takes you through your workday. Offering a solution to align day-to-day activities with strategy, allocate and monitor resources, manage risks and secure goal reaching. While continuously tracking progress and results along the way.
With Cleerit, you get a clear integrated work process with built-in goal management, which takes you all the way from strategy to execution to performance management in an agile learning process.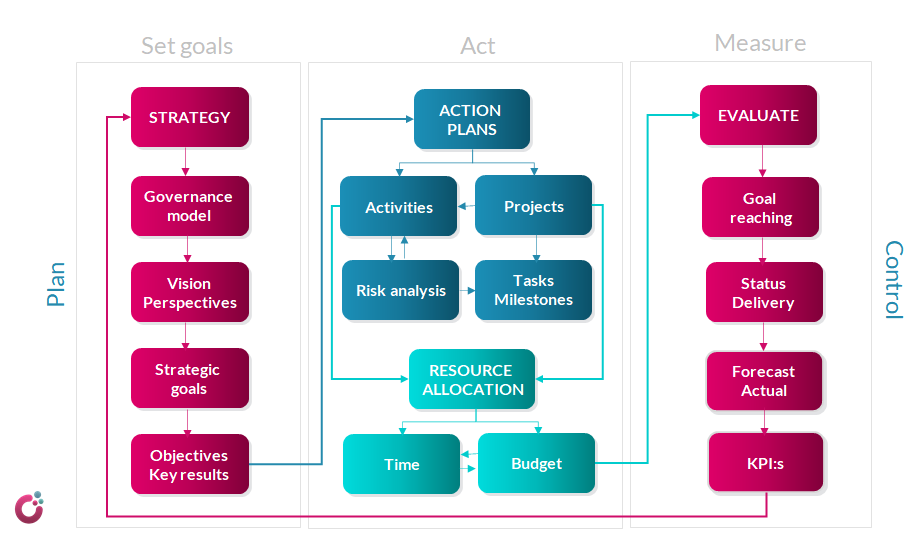 Cleerit helps you focus on key questions for efficient management
What do we do?
What should we do?
What have we done?
Are we doing things right?
Is what we do in line with our mission, our objectives, our goals?
Are we doing the right thing?
How do we allocate resources (funds / time / skills)?
Who does what? When where how?
What are the expected / achieved results?
How are we doing?
Risks?
Do we reach our goals?
Adjustments?
A flexible digital solution to always do the right things in the right way
To turn your strategies into reality, it is important to have a digital solution that guides you step by step to achieve your high goals with the help of an agile but goal-focused planning support and continuous status updates that leverage all the knowledge and experience that exists in you organisation. A digital solution where everyone can be involved and take responsibility for their goals and results.
Cleerit is the flexible solution you need to work with your plans, based on your conditions and needs – so that you can get the best out of your resources on the way to your higher goals and results.
Gain in overview, clarity and control to be able to prioritize and make the right decisions
Allocate resources to where they contribute the most and adjust easily when needed
Make sure everyone works towards the same goals and knows what to do, when and why
Leverage knowledge and experience,learn, improve, collaborate and share best practices
Make work visible and highlight urgent issues for an increased employee productivity
Reduce time spent on reviews and evaluations, project overruns and risks, increase forecast reliability
When you need your strategic plans to thrive, be fully understood, backed up by measurable action and executed across all teams – not just sit in static presentations or spreadsheets.
When you want agile budget processes, reliable forecasts reflecting operational reality, flexible drill-down reports, and support for everyday resource allocation and performance management.
When you manage both standing activities and projects, and you need to plan, manage, collaborate and monitor initiatives, tasks and milestones in one integrated tool easy to use for all team members.
Then Cleerit is the solution for you.
Integration and good order increases performance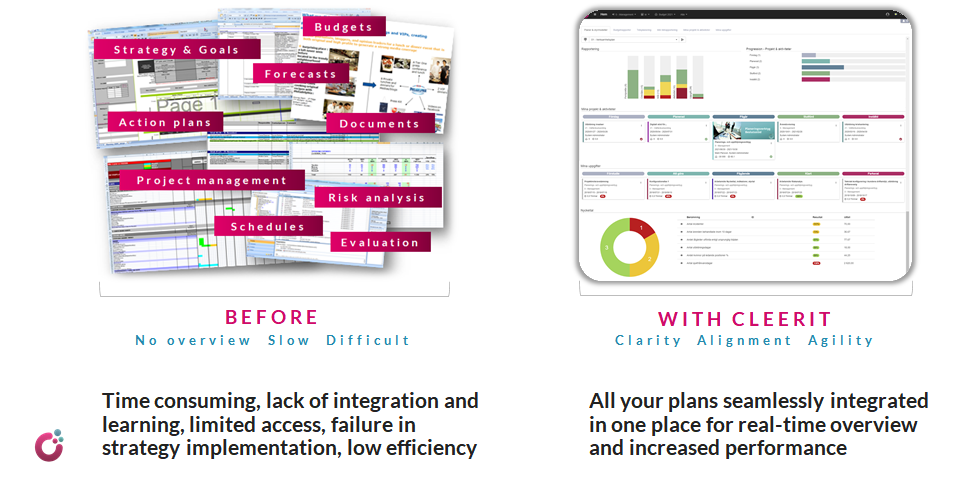 We are with you all the way because it is also about people
We are inspired by your challenges and by contributing to more efficient processes and higher goals in your organization. Our experienced team assists you with both technical and business-specific experience and expertise.
With our support, the complex becomes simpler and you get started quickly and easily. Together, we make sure that you reach your goals, within the time frame and budget you set. We stay by your side and assist you with continuous knowledge transfer and support.
Your and your team's success is our success!
---
More

about benefit realization and strategic planning
What is benefit realization ?
Cleerit supports work with benefit realization. But what does benefit realization mean in the public sector? Benefit realization is a management strategy that provides support for directing resources and investments to where they do the most good, ie where the expected benefit, the impact goals, of the changes you want to implement is highest. The Swedish National Financial Management Authority, ESV, is responsible for developing public-sector financial management in Sweden and provides the following definition:
Benefit realization as a concept is a systematic approach to optimizing and securing the repatriation of the expected benefits of investments in the public sector. A systematic realization of benefits always begins with specifying (identifying, quantifying and evaluating) the expected benefits for the stakeholders involved.

The Swedish National Financial Management Authority – From needs-driven development to benefit realization – an overview
It requires a structured planning process where the expected benefits for the stakeholders involved are specified, quantified and evaluated. Working with realization of benefits is about investments having the intended effect both for one's own organization and for the citizens. Then it is important to have an approach that focuses on the benefit (effect) and not just on the deliverables.
Benefit realization means structured management and leadership in order to realize and optimize the benefits of investments. It is not an independent process, but sews together the organization's existing control and management processes to collaborate towards the common goals, realize the desired changes and generate the planned effects.
Can a strategic plan be both structured and agile?
In today's fast-moving world, agility is a prerequisite for long-term success, but the reality is that we have to constantly plan for how to use the organization's resources. Some are plans are short-term, others extend into an imaginary future. Agile organizations face the challenge of taking advantage of decentralized initiatives (bottom-up) and ensuring that they are carried out within the organisation's strategic priorities (top-down).
Managing with this built-in contradiction requires new processes and routines for planning and coordination. Henry Mintzberg defined strategic planning as "a formalized system for codifying, elaborating and operationalizing the strategies which organizations already have". But in the meeting between agile processes and strategic planning, two fundamental questions are asked: when we put all these initiatives together, do they contribute to our organization's strategic goals? And, what can we learn from these initiatives to make our strategic plan even more successful?
That is agile planning. Setting ambitious goals, defining clear processes to achieve them, implementing these processes and continuously learning from them, is a prerequisite for success and should permeate the entire organization in the daily work at all levels.
The importance of making use of knowledge and experience
Today, the ability to generate data is virtually unlimited thanks to Big Data. And Big Data is being transformed into Business Intelligence. But that does not necessarily mean that we can create better plans for the future. As Henry Mintzberg writes in his book The rise and fall of strategic planning, soft data is also important:
While hard data may inform the intellect, it is largely soft data that generate wisdom. They may be difficult to 'analyze', but they are indispensable for synthesis — the key to strategy making.
Today, more than ever, knowledge and experience are the most important resources of the learning organization. Or, as Lawrence "Larry" Bossidy – previously chairman of the board at General Electric and CEO at AlliedSignal (later Honeywell) and author of the book Execution: the Discipline of Getting Things Done, said:
At the end of the day, you bet on people, not on strategies.
We think before we act, and our actions help us to think
Traditionally, the development of the strategic plan is thought of as a sequential process, which begins with an initial analysis that is elaborated and formalized to culminate in possible action. But strategy design as a learning process can also take the opposite direction. We think before we act, to feel safe, but our actions also make us think. We try it out, experiment with new initiatives, and these experiments are gradually shaped into viable patterns that become strategies.
A successful strategy design takes place every day, and therefore strategic planning is an ongoing and iterative learning process.
Read on to know more about the features Cleerit offers to succeed with strategic, operational and financial planning: