Strategic sustainability work with Agenda 2030 reflected in the entire organisation
Contributing to a more sustainable world based on social, environmental, economic and ethical commitments in accordance with the UN's Global Goals and Principles is the responsibility of the Board and top management team. This means that the goals and strategies for sustainability and responsible development need to permeate the entire organization and be translated into concrete action plans that specify what is to be done, by whom, when and what results are expected. Activities and ressources must now also be linked to the EU's new classification system, Taxonomy, which provides support in assessing whether an economic activity is sustainable.
Cleerit helps to digitize your sustainability plans, increase efficiency and integrate EU Taxonomy and ESG criteria into your core activities
Define your ESG, sustainability, strategic and operational goals and expected results
Plan, manage and follow up on your sustainability projects and activities in line with Agenda 2030
Create and monitor budget connected to EU taxonomy and ESG criteria
Allocate resources and plan time
Measure and analyse results and goal reaching with flexible reports and KPIs
Analyse and prevent both ESG and operational risks
Improve collaboration and knowledge sharing
Simplify your sustainability reporting and ensure access to key information in real-time
You are welcome to get in touch with us to know more on how Cleerit can support your sustainability work.
---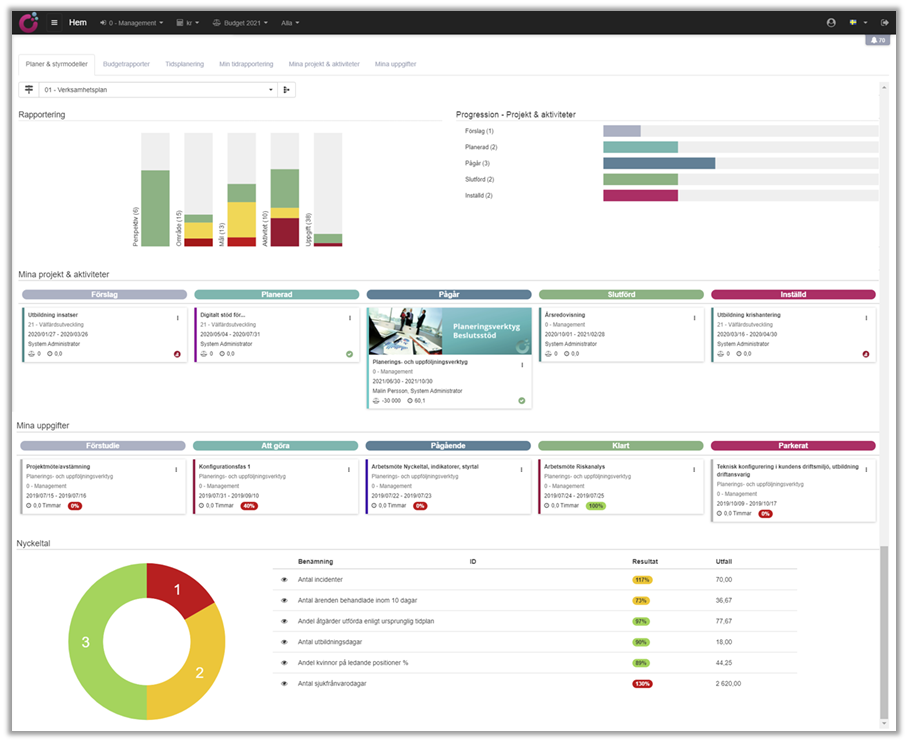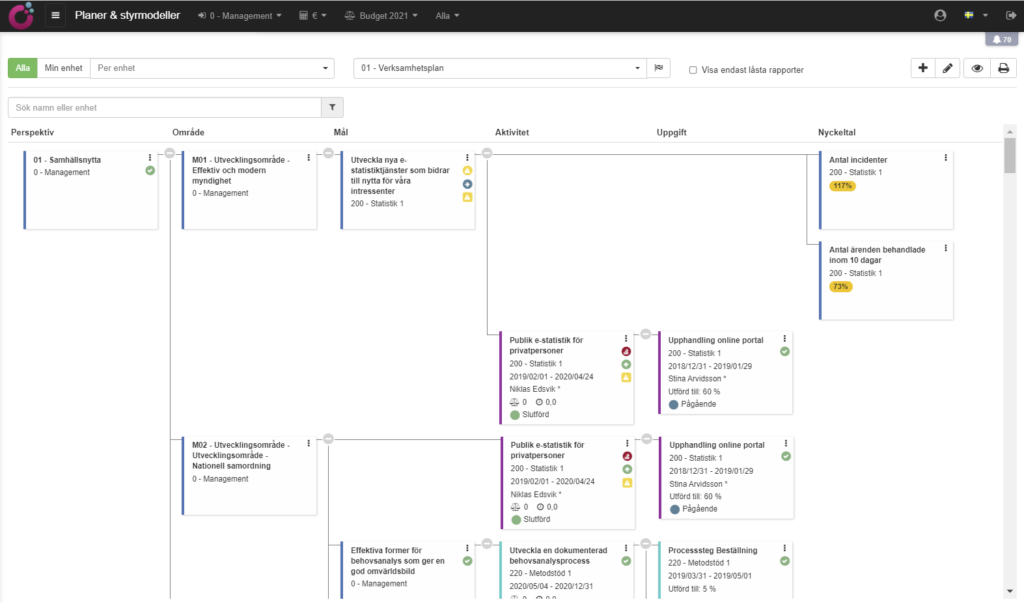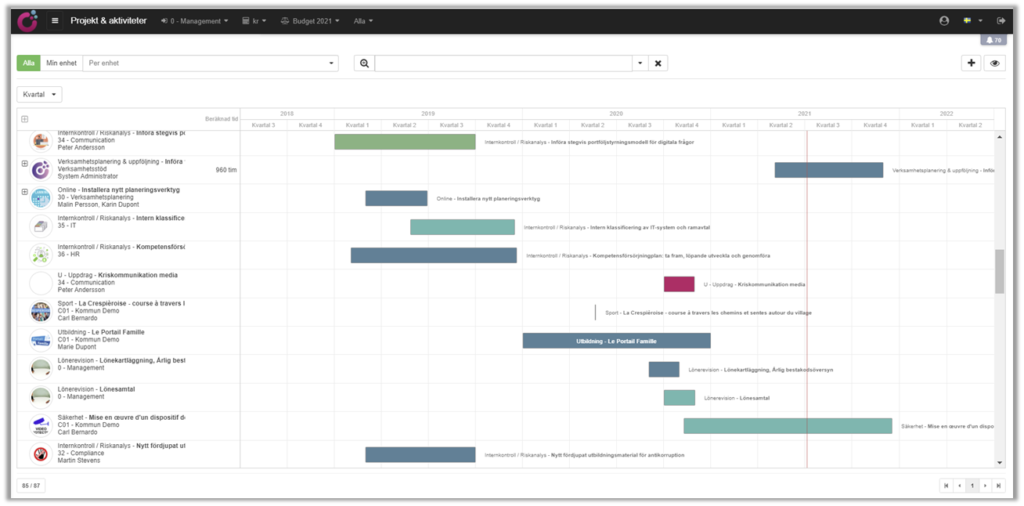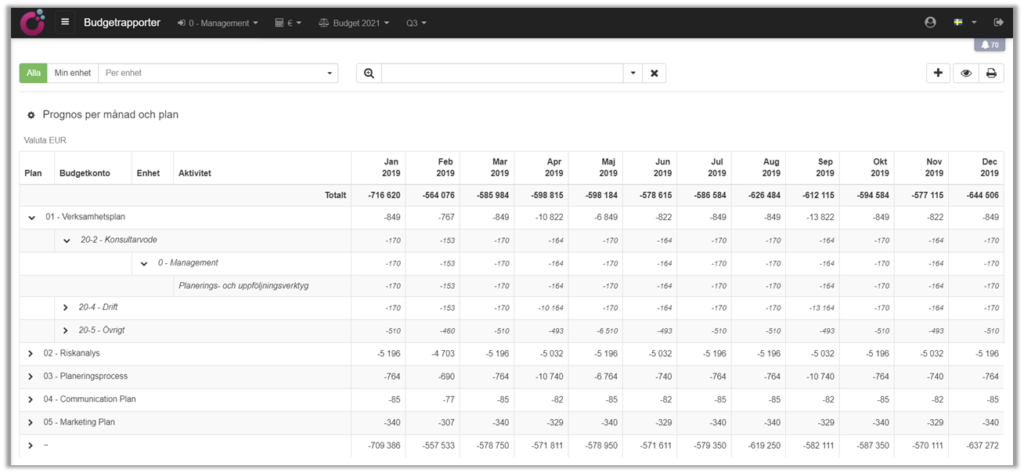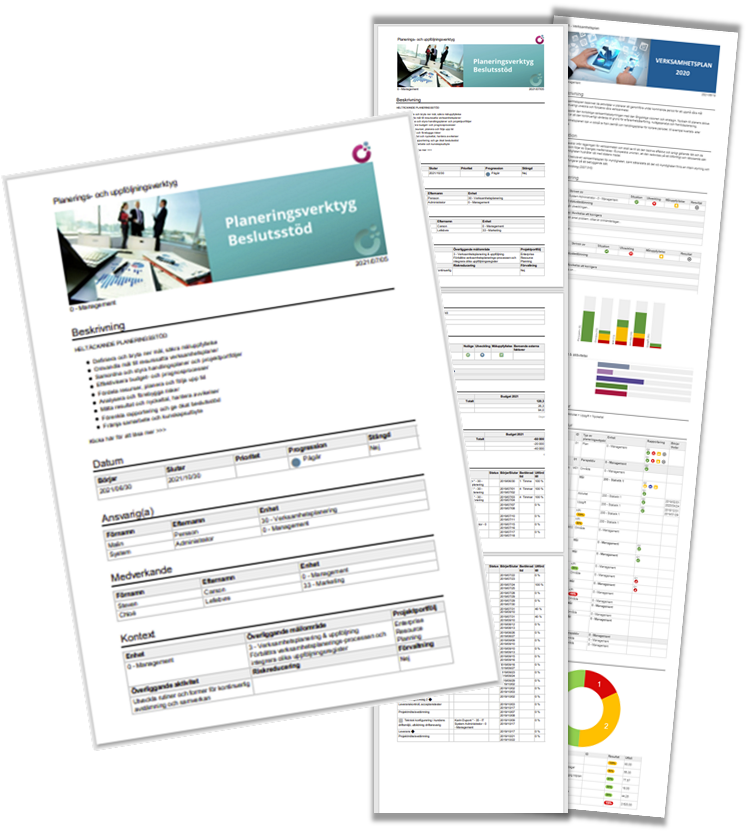 ---
More

about Sustainability & CSR with Cleerit
What does sustainable development mean?
The concept of "sustainable development" was introduced by the American environmental scientist and author Lester R. Brown in 1981. It became internationally widespread in 1987 when the UN World Commission on Environment and Development launched the concept in the report "Our common future". Norway's then Prime Minister Gro Harlem Brundtland, who led the Commission, gave the term the following definition, which is still the most common definition of sustainable development:
Sustainable development is development that meets the needs of the present without compromising the ability of future generations to meet their own needs.

www.globalamalen.se/fragor-och-svar/vad-betyder-hallbar-utveckling
Sustainable development is based on three dimensions: the social, the environment and the economy. The UN's 17 global goals include all three dimensions.
The Global Goals are the most ambitious sustainable development agenda that the countries of the world have ever adopted and exist to achieve four fantastic things by the year 2030:
To eliminate extreme poverty
To reduce inequalities and unfairness in the world
To promote peace and justice
To solve the climate crisis
Through the Global goals for sustainable development, these goals can become reality.
Why is it important to succedd with your sustainability strategy?
Expectations that organizations work sustainably are rising from society as well as individual customers and citizens. There are many and good reasons for developing sustainability and the driving forces are many.
By investing in sustainability and involving employees, customers, suppliers and other stakeholders in your sustainability strategy, you create commitment and at the same time gain insight into both risks and opportunities. As an integral part of the business and with support throughout the organization, sustainability becomes an investment that reduces risk exposure, increases efficiency and generates returns in the form of new business, more assignments and improved relationships.
As both customers and citizens become more aware, they place higher demands on organizations and their products and services. The organization's employees also see sustainability as increasingly important and it has for many become a significant factor in attracting qualified employees. Environment and social sustainability are also important criteria in procurement. Requirements labelling, energy efficiency, diversity and organic material selection are selection criteria that have become important when purchasing and in requirements specifications.
Set goals and account for sustainability
The key to a sustainable business lies primarily in the business model itself, i.e. how revenue is generated, as well as how goods and services are produced and benefit the customer or citizen.
This means that the responsibility for formulating goals and strategies for a more sustainable and responsible development ultimately lies with the top management. Management is also responsible for ensuring that the sustainability strategies permeate the entire organization and are translated into concrete action plans that specify what is to be done, by whom, when and what results are expected for the strategies to become a reality.
By setting goals and reporting on sustainability, you strengthen the conditions for achieving results and at the same time create transparency and credibility, as well as strengthening your brand towards customers, citizens and employees.
Take the time to think about which sustainability aspects are most important for your organisation and what you want to achieve. Describe your sustainability strategy in the organization's policy document, business plan and values. Account for the progress you make, both internally and externally.
Good overview and reliable decision support to manage your sustainability plans
With Cleerit you get a modern solution adjusted to your needs. A solution that integrates the functions you need to implement and follow up on the progress of your sustainability strategy.
For you with overall responsibility for the sustainability strategies, a better overview will help you prioritise and make informed decisions as you lead your organisation towards the goals in alignment with the UN Agenda 2030 and Global Compact. Using Cleerit for this work also gives you a good basis for continuous reporting and the annual sustainability report, including related risk management.
With access to a sustainability plan that provides both an overall picture and in-depth details, the follow-up is considerably simplified, especially when you have sustainability activities going on all around the world. The management and Board as well as the internal control departments can themselves follow the development in real-time if they have access to Cleerit.
You can easily create reports that show progress towards your goals, how you allocate resources to prioritised areas, and the results you reach.
From sustainability strategy and goals to action planning with resource allocation and budgets
Based on your goals you can create an action plan in Cleerit and get a visual chain of control that shows how strategic areas such as climate, work environment, diversity and equality are logically linked to goals and activities. It becomes clear what is to be done, by whom, when and what results you expect to reach.
Defining, analyzing, and managing risks that can prevent you from achieving your goals is a central part of sustainability work. The integrated risk management function supports the work partly by integrating risk analyzes and measures linked to the activities in your sustainability plan, and partly by establishing separate risk management plans.
A prerequisite for turning strategies into reality is to allocate your resources to where they are of best use. Therefore, time and budget planning are important components of Cleerit. You avoid time-consuming manual planning templates and can automate your planning processes for optimized resource allocation, faster results and higher reliability.
The daily work towards the sustainability goals where everyone knows what to do
It is what you do every day, step by step that leads you towards achieving your goals. As an operational manager, you get an overview of how various activities such as education, diversity initiatives and activities for reducing carbon dioxide emissions are progressing with the help of overviews, schedules and status reports.
You and your teams get a digital workspace where it becomes clear to everyone what they should do and how they contribute to the goals. To help you, you have tools such as goal mapping, task planning, kanban cards, Gantt charts and the ability to share documents.
Ensure visibility of your sustainability results with reports and KPIs for analysis and learning
With reports and metrics, status and progression, you have continuous access to data for analysis and decisions. This allows you to be fast-moving and can easily re-prioritize when needed.
You can define KPIs with target values ​​and compare them with outcomes for example for environmental and climate goals, gender equality, diversity and inclusion. Since the KPIs are linked to goals and activities, you will gain an in-depth understanding of your results. Documentation for the Board, the annual sustainability report and Communication on Progress (CoP) for the Global Compact are always available in real-time.
Dedicating time to analysis lays the foundation for increased learning that leads you on the path to realizing sustainability goals, and actually helping to save the planet.
Read on to know more about the features Cleerit offers to succeed with Sustainability & CSR: