From GreenWashing to GreenAction with strategic sustainability plans and EU's Green Deal for a better future and sustainable performance
Environmental, social and governance concerns (ESG) play an increasingly important role in organizations' strategic and day-to-day decisions. ESG-oriented investments are increasing strongly, and in January 2024 the CSRD will enter into force. Having processes and system support ensuring high financial results, but also a sustainable social and environmental impact – a triple bottom line performance for Profit, People & Planet – is not only necessary, it is a key competitive advantage.
The SaaS solution Cleerit helps you structure and simplify the implementation of your sustainability strategy, and report according to the European corporate sustainability reporting directive CRSD, the upcoming European reporting standards ESRS, and any other standards applied in your organization.
With digital and inclusive management models in Cleerit, you easily and seamlessly integrate ESG strategies for sustainable development, the EU's green taxonomy, due diligence and materiality analyzes into your core business.
CRSD and ESRS represent a big step forward for sustainable development, but are also challenging and require a real commitment from both the management team and the board. Now it will be even more important to report on sustanability strategies, goals and action plans in a structured and standardized manner, as well as on processes for materiality analyzes and sustainability work.
The modern, inclusive and easy-to-use solution Cleerit can make a big difference for only 65€/user/month. You can easily digitize and streamline your sustainability initiatives, link CSR & ESG goals and results to your strategic, operational and financial plans, automate your sustainability reporting processes, improve your ESG rating and communicate your contribution to a more sustainable society.
Define and cascade your ESG, sustainability, strategic and operational goals and expected results
Analyze material topics, assess your impacts, risks and opportunities
Plan, manage and monitor your sustainability initiatives, projects and activities
Connect your CSR plans to the SDGs in Agenda 2030, to ESRS and to the frameworks of your choice
Create and monitor budgets and forecasts connected to EU taxonomy and ESG criteria
Allocate resources, plan time, monitor CSR strategy execution performance
Measure and analyse results and goal reaching with flexible reports, KPIs and scorecards
Analyse, prevent and mitigate ESG, strategic and operational risks, conduct due diligence
Improve collaboration and knowledge sharing, communicate the importance of CSR
Generate your sustainability reporting and ensure access to key information in real-time
You are welcome to contact us to know more about how Cleerit can help you succeed with your sustainability strategy, automate your sustainability reporting and improve your ESG rating.
We also provide more information about rules and regulations further down on this page.
---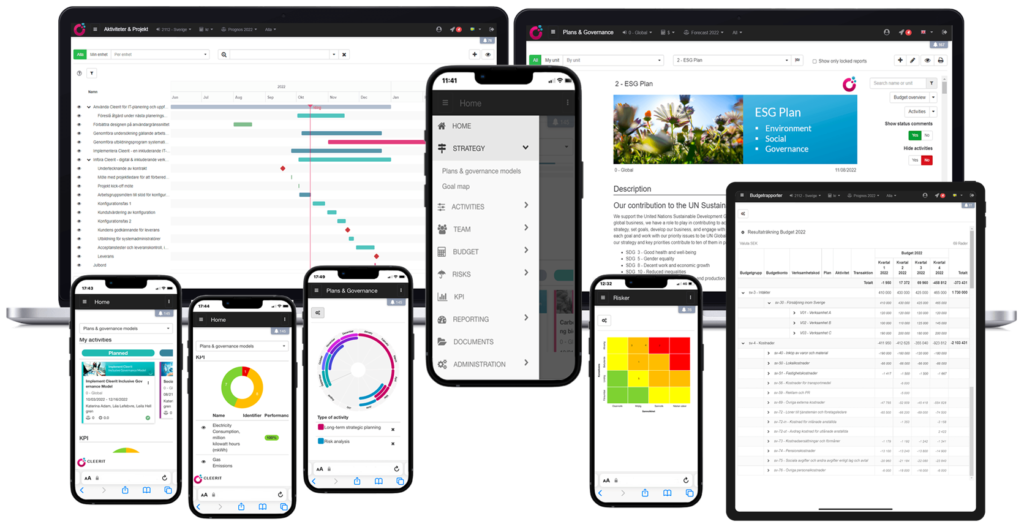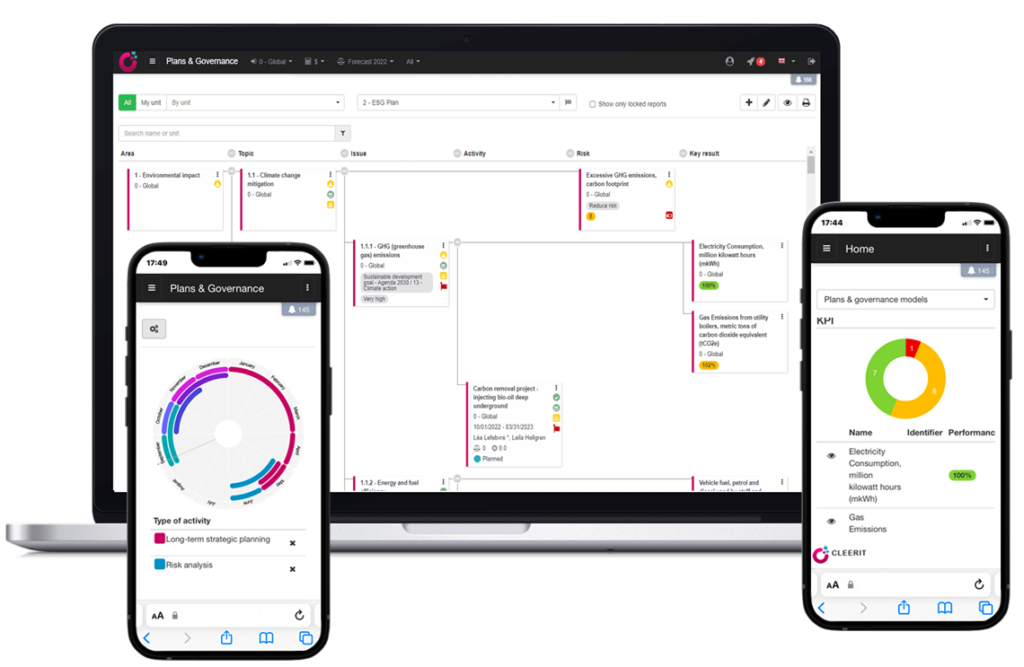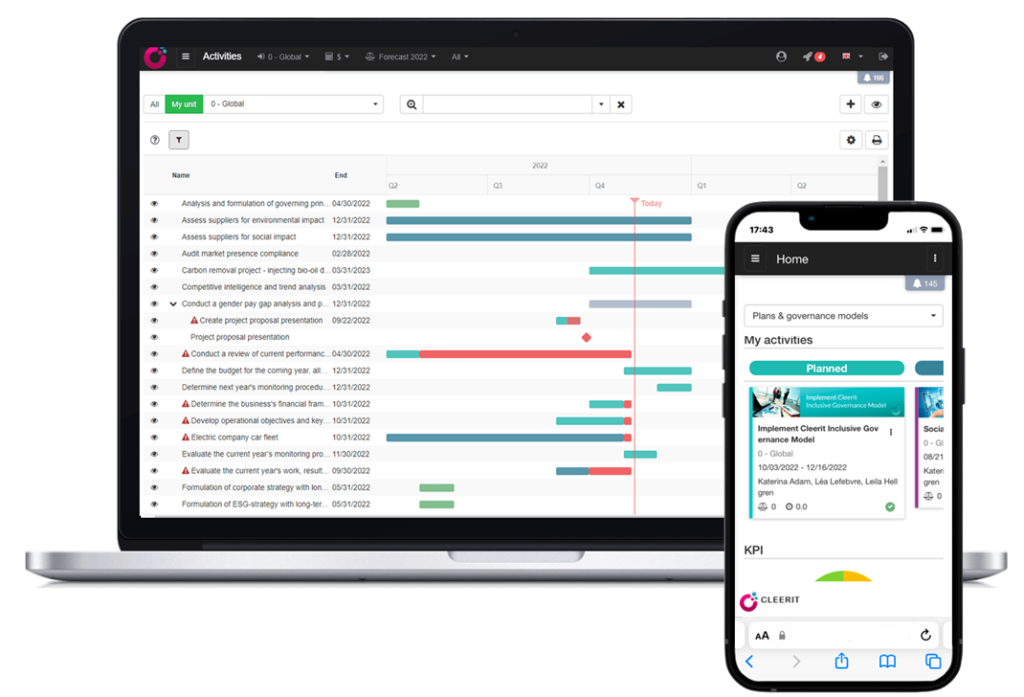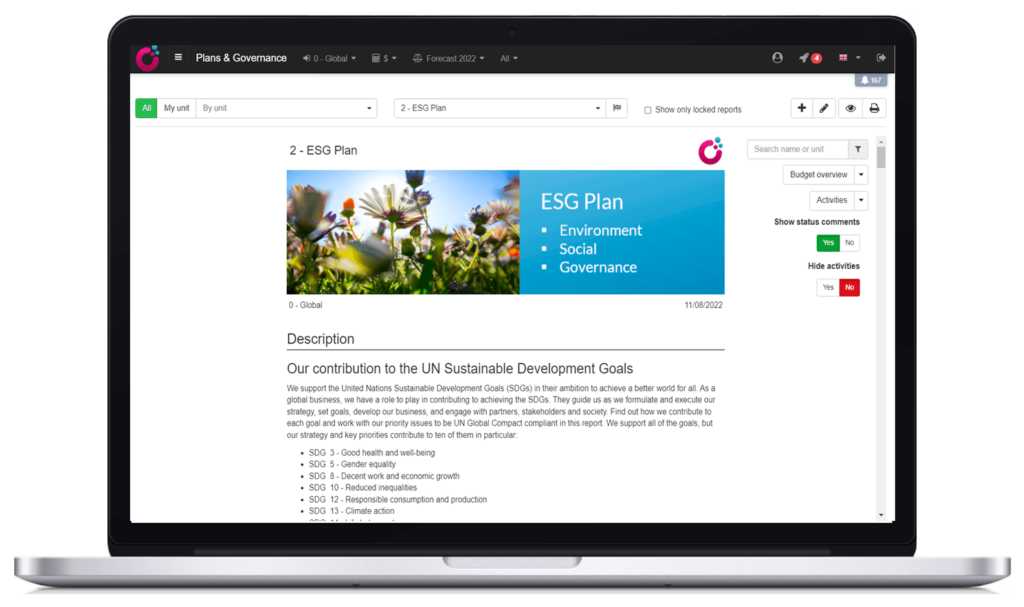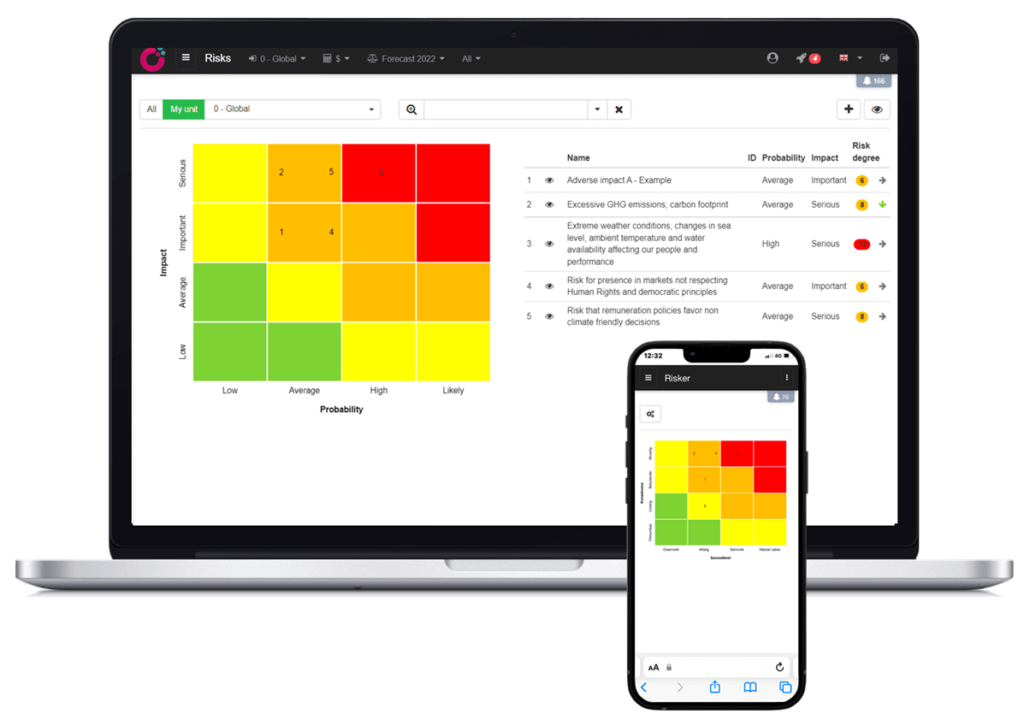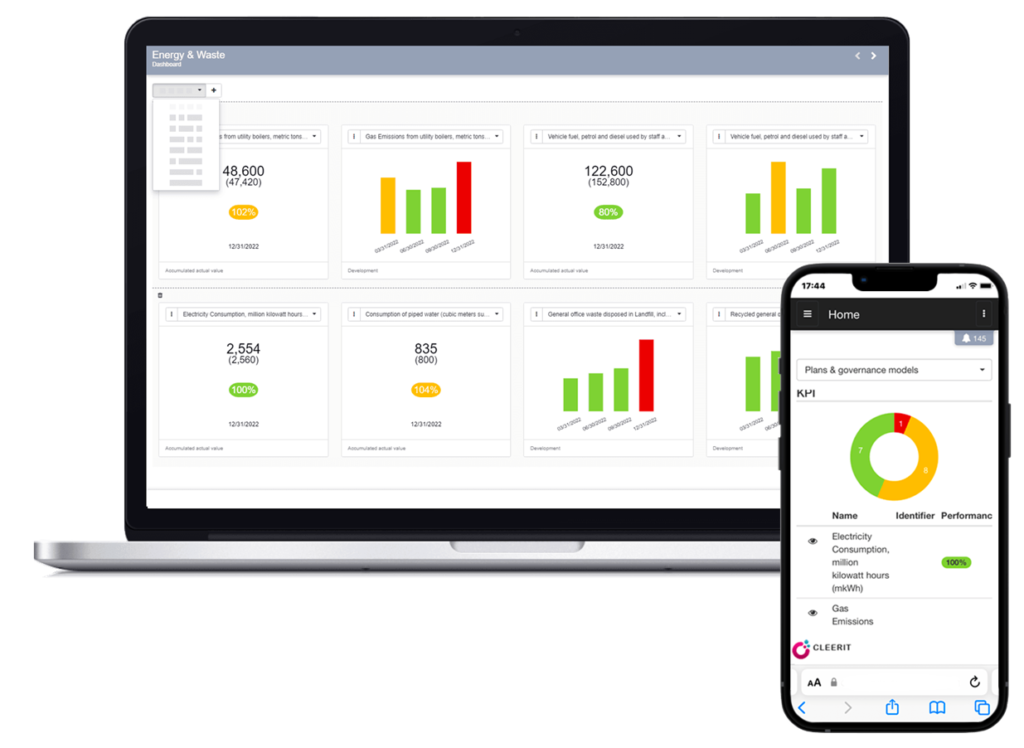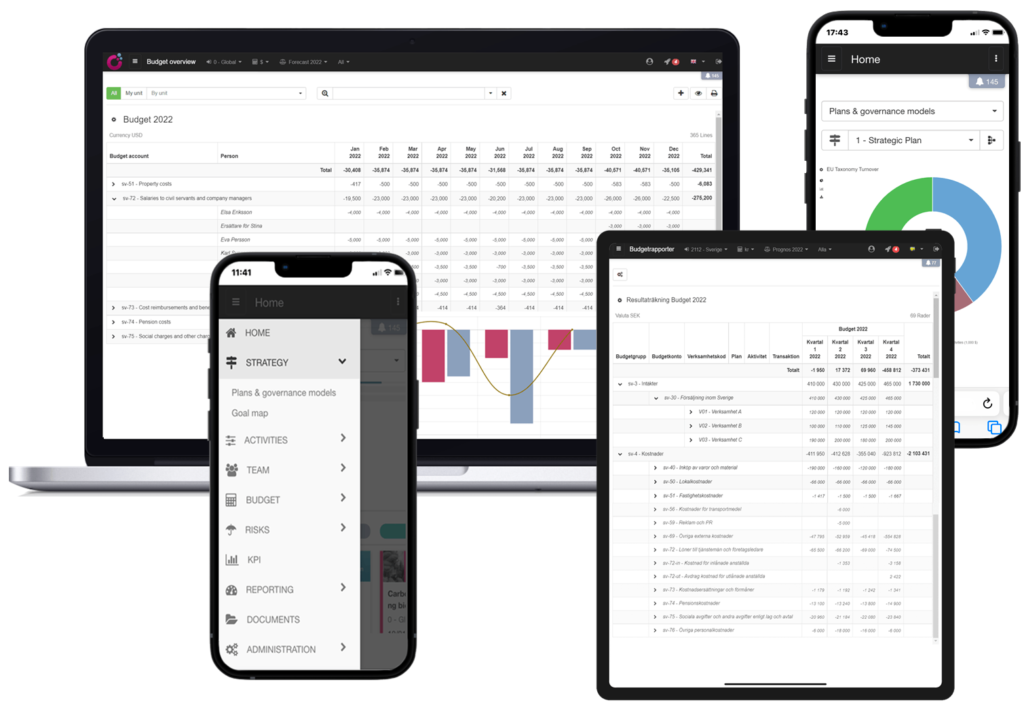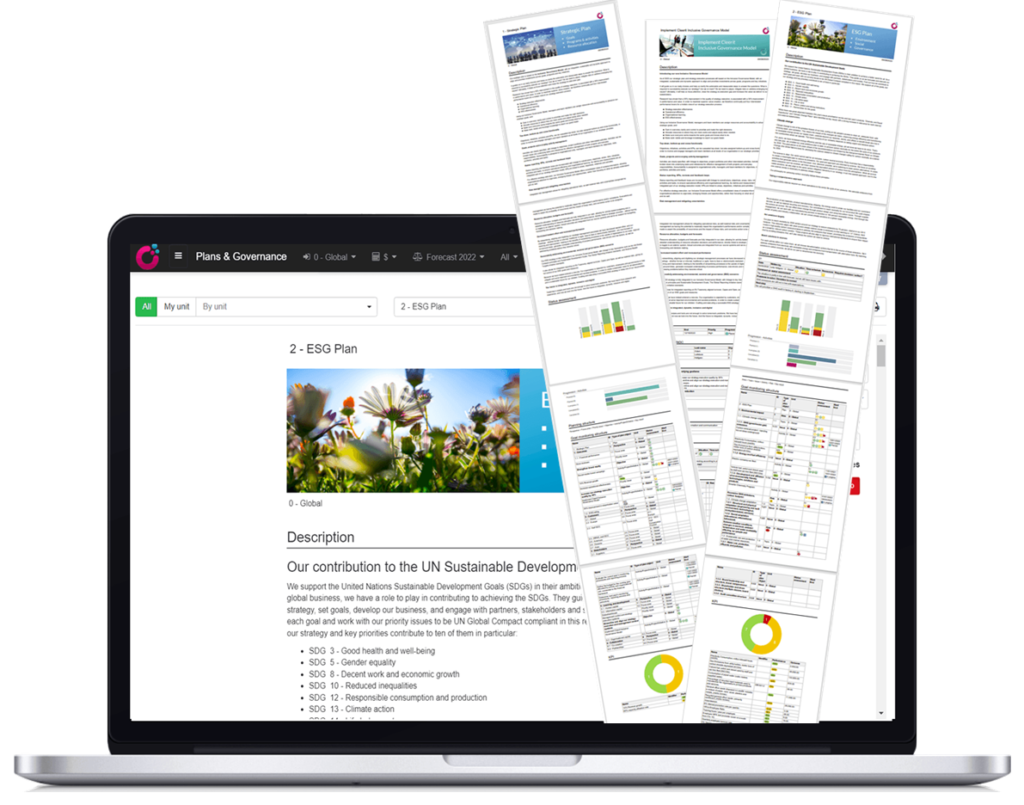 ---
More about CSR, ESG & non-financial performance
Sustainable development and the Global Goals in the UN Agenda 2030
The concept of "sustainable development" was introduced by the American environmental scientist and author Lester R. Brown in 1981. It became internationally widespread in 1987 when the UN World Commission on Environment and Development launched the concept in the report "Our common future". Norway's then Prime Minister Gro Harlem Brundtland, who led the Commission, gave the term the following definition, which is still the most common definition of sustainable development:
Sustainable development is development that meets the needs of the present without compromising the ability of future generations to meet their own needs.
Sustainable development is based on three dimensions: the social, the environment and the economy. The UN's 17 global goals (SDGs) include all three dimensions.
The Global Sustainable Development Goals constitute the most ambitious sustainable development agenda ever adopted and aims to realize four ambitious overall goals by the year 2030:
To eliminate extreme poverty
To reduce inequalities and unfairness in the world
To promote peace and justice
To solve the climate crisis
Through the global goals for sustainable development, these goals can become reality.
Read more about global goals and the SDG Compass – the guide for business action on the SDGs
ESG and non-financial performance are critical to organizations' strategic success over time
Environmental, social responsibility and governance (ESG) issues play an increasingly important role in organizations' strategy and day-to-day decisions. ESG-oriented investments have grown strongly – up 68% since 2014 and tenfold since 2004. It makes sense, therefore, that a strong ESG proposal creates value and ensures an organization's long-term success.
The term ESG stands for Environmental, Social and Governance and is a way of evaluating organizations' non-financial performance and development. Historically, for-profit companies have mainly been evaluated based on financial results, but an organization's operations also affect the environment (Environment), the employees and society at large (Social). How responsibly an organization is governed is also decisive for the organization's sustainability over time (Governance).
E – Environmental impact
Includes the energy used by the organization, the waste it generates, the resources it needs and the consequences this has for living beings. The term also covers carbon dioxide emissions and climate change. Every organization uses energy and resources. Every organization affects and is affected by the environment.
S – Social responsibility
Covers the relationships the organization has with people, institutions and the communities the organization operates in. Social responsibility also covers the organization's reputation, labor relations, diversity and inclusion. Every organization operates in a larger ecosystem.
G – Governance
Includes the methods and processes the organization uses to govern itself, make effective decisions, comply with the law and meet the needs of external stakeholders. Every organization is a legal entity and requires governance.
Corporate Social Responsibility (CSR) is a management concept whereby companies integrate social and environmental concerns in their business operations and interactions with their stakeholders. CSR is generally understood as being the way through which a company achieves a balance of economic, environmental and social imperatives ("Triple-Bottom-Line- Approach"), while at the same time addressing the expectations of shareholders and stakeholders.
To actively engage in CSR means that, in the ordinary course of business, a company is operating in ways that enhance society and the environment instead of contributing negatively to them.
Key CSR issues include environmental management, eco-efficiency, responsible sourcing, stakeholder engagement, labour standards and working conditions, employee and community relations, social equity, gender balance, human rights, responsible governance, and anti-corruption measures.
An effective CSR strategy generates competitive advantages, such as enhanced access to capital and markets, increased sales and profits, operational cost savings, improved productivity and quality, efficient human resource base, improved brand image and reputation, enhanced customer loyalty, better decision making and risk management processes.
Read more about CSR at UN Industrial Development Organization
Read more about ESG at Harvard Law School Forum on Corporate Governance
With Cleerit, you easily integrate CSR, ESG strategy and sustainability reporting of your non-financial performance in your core business. You can also, if you wish, connect your ESG governance models to the international frameworks of your choice (SDG, TCFD, GRI, SBTi, UNGP, EU taxonomy…).
The EU Corporate Sustainability Reporting Directive (CSRD) replaces the NFRD as of financial year 2024
NFRD – Non-Financial Reporting Directive
Since 2018 large public interest entities (listed undertakings – or enterprises, banks and insurance companies) with more than 500 employees are required to publish sustainability information under the Non-Financial Reporting Directive (NFRD)
This information includes a non-financial statement with material information on their business model, policies, outcomes, risks and risk management, in addition to key performance indicators related to at least environmental, social and employee matters, respect for human rights, anti-corruption, and bribery matters.
As of 2020, 1 956 undertakings fell within the scope of the NFRD, or nearly 11 000 if those covered by the national transpositions of the NFRD and the Accounting Directive are also included.
The NFRD does not impose the use of any reporting framework or standard, but if preparers rely on particular frameworks, they should state this in their non-financial statement. The EU Member States are allowed to determine whether the statement should be integrated into the management report or published as a separate report.
CSRD – Corporate Sustainability Reporting Directive
In April 2021 the European Commission presented a new Corporate Sustainability Reporting Directive (CSRD) proposal as part of the European Green Deal and the Sustainable Finance Agenda.
In June 2022 the European Parliament and Council reached a political agreement on a CSRD, to which the Council gave its final approval in November 2022.
On 16 December 2022, the final act has been published in Official Journal. The directive will enter into force 20 days after publication. The rules will start applying between 2024 and 2028.
The first companies will have to apply the new CSRD rules for the first time in financial year 2024, for reports published in 2025.
The CSRD introduces more detailed reporting requirements on non-financial sustainability matters, replacing the NFRD, which is no longer tailored to the EU's transition to a sustainable economy, and expanding its scope and content with the aim to improve the quality of the reported information, standardize sustainability information for EU reporters and tackle greenwashing.
The CSRD ensures that all large companies and listed small & medium-sized companies (SMEs) are required to report on sustainability matters such as environmental rights, social rights, human rights and governance factors.
A broader set of EU companies will now be required to report on sustainability – approximately 50,000 companies in total.
ESRS – EU Sustainability Reporting Standards
The NFRD did not envisage EU-wide non-financial reporting standards, which could lead to inconsistent information being reported. The CSRD will now require companies to publish sustainability information in line with the European Sustainability Reporting Standards (ESRS), tailored to EU policies, while building on, and contributing to, international standardization initiatives.
The European Financial Reporting Advisory Group (EFRAG) is responsible for preparing the sustainability standards in its role as technical advisor to the European Commission.
The last version of the first set of ESRS were approved by the EFRAG board on 15 November 2022 and have been subject to editorial review before its final submission to the European Commission on 22 November 2022.
The European Commission is expected to adopt this first set of standards by June 2023.
The provisions apply to fiscal years starting on or after 1 January 2024 for companies already subject to the NFRD.
Financial markets need access to environmental, social and governance information that is reliable, relevant and comparable if private capital is to be channeled into financing the green and social transition. Disclosure of sustainability information could attract additional investment and funding to facilitate the transition to a sustainable economy, as described in the EU Green Deal.
The proposal also aims to simplify the reporting process for companies. Many companies are currently under pressure to use an array of different sustainability reporting standards and frameworks. The proposed EU sustainability reporting standards should be a 'one-stop-shop', providing companies with a single solution that meets the information needs of investors and other stakeholders.
The new rules and reporting standards are expected to:
ensure that investors and other stakeholders have access to the information they need to assess investment risks arising from climate change and other sustainability issues;
create a culture of transparency about the impact of companies on people and the environment;
reduce reporting costs for companies over the medium to long term by harmonizing the information to be provided.
The new EU sustainability reporting rules will apply to listed and large enterprises
An enterprise, or 'undertaking' in the ESRS, is considered to be any entity engaged in an economic activity, irrespective of its legal form and the way in which it is financed. Any activity consisting in offering goods or services on a given market is an economic activity.
In short, the new sustainability reporting rules will apply to enterprises
listed on regulated markets, providing they are not micro-undertakings, meaning which employ more than 10 persons and whose annual turnover exceeds EUR 750 000, and/or an annual balance sheet total exceeds EUR 350 000. SMEs can opt-out until 2028.
which employ more than 250 persons and/or whose annual turnover exceeds EUR 40 million, and/or an annual balance sheet total exceeds EUR 20 million.
These companies are also responsible for assessing the information applicable to their subsidiaries.
For non-European companies, the requirement to provide a sustainability report applies to all companies generating a net turnover of EUR 150 million in the EU and which have at least one subsidiary or branch in the EU exceeding certain thresholds. These companies must provide a report on their environmental, social and governance (ESG) impacts, as defined in the CSRD.
Application date
The application of the regulation will take place in four stages:
reporting in 2025 on the financial year 2024 for companies already subject to the NFRD;
reporting in 2026 on the financial year 2025 for large companies that are not currently subject to the NFRD;
reporting in 2027 on the financial year 2026 for listed SMEs (except micro undertakings), small and non-complex credit institutions and captive insurance undertakings;
reporting in 2029 on the financial year 2028 for third-country undertakings with net turnover above EUR 150 million in the EU if they have at least one subsidiary or branch in the EU exceeding certain thresholds.
EU Green Taxonomy – to transform the European economy
Europe aims to achieve carbon neutrality – climate neutrality – by 2050. This goal is part of a comprehensive action plan, the EU Green Deal, which was presented by the European Commission in 2019. 1,000 billion euros will need to be mobilized between 2021 and 2027 for the 27 member countries to achieve a low-carbon transition.
Sustainable finance is an important part of the action plan, with the objective to redirect capital investments to sustainable economic activities using a green taxonomy.
The green taxonomy, or climate taxonomy, is a European framework for a standardized classification of economic activities that greatly contribute to achieving the EU's six environmental goals according to scientific criteria.
Today, the taxonomy includes criteria that make it possible to assess the environmental sustainability of 90 economic activities, which account for more than 93% of greenhouse gas (GHG) emissions in the European Union.
The EU has published a guide – the Taxonomy Compass – which can be used to verify which economic activities are included in EU's green taxonomy, how they significantly contribute to the environmental goals, and which technical screening criteria they must meet in order to be taxonomy aligned.
Read more about the Taxonomy Compass
On January 1, 2022, the disclosure requirements came into effect with the taxonomy regulation (Regulation 2020/852 of the European Parliament and of the Council).
Large companies and financial institutions must include the proportion of their economic activities and/or investments eligible under the taxonomy in their sustainability reports – i.e. activities and investments that correspond to the economic activities that are currently specified in, or covered by, the taxonomy framework – expressed as a share of turnover (TO), capital expenditures (CAPEX) and operating expenses (OPEX).
From 2023, large companies will also have to report the proportion of economic activities and/or investments aligned with the taxonomy, using the same three financial key performance indicators: share of turnover (TO), CAPEX and OPEX.
In order for an economic activity eligible under the taxonomy to also be considered aligned with the taxonomy, and thus classified as environmentally sustainable according to the taxonomy, it must:
Contribute significantly to one or more of the EU's six established environmental goals
Without significantly harming any of the other five goals (Do No Significant Harm – DNSH)
Meet the Technical Screening Criteria (TSC)
The company must also meet the minimum requirements of international conventions regarding labor law and human rights (OECD Guidelines on Multinational Enterprises and UN Guiding Principles on Business and Human Rights) throughout its global supply chain
From 2024, this obligation will apply to the majority of companies with more than 250 employees, as part of the new Corporate Sustainability Reporting Directive (CSRD).
The CSRD directive also specifies that, in the future, sustainability reporting must be "comparable, reliable and easy to find for users, and use digital technology".
Each market participant is also free to describe how their own business activity is related to the taxonomy in the sustainability report, even if it is not currently part of the taxonomy listing. The sustainability report can be supplemented by e.g. explaining that the results of the taxonomy's financial key performance indicators reflect the fact that the business is not yet covered by the taxonomy – and not by an inability to meet the technical screening criteria. It is also possible to describe how the company considers that its business is already low in carbon dioxide, contributes to conversion or makes it possible for other businesses to reach their threshold values.
With Cleerit, sustainability strategy & reporting is easy, inclusive and digital. You easily integrate the EU's Green Taxonomy in your daily operations and financial planning, with clear and automated data flows.
Read more about EU Climate Taxonomy
The EU's Social Taxonomy for employees, consumers and communities
Environmental and social criteria have been part of the EU's sustainable finance strategy since the very beginning. It is widely recognised that there is a need for social investments to both: (i) achieve the sustainable development goals (SDGs) of the UN's 2030 agenda; and (ii) create the social internal market set out in the Treaty on European Union (Article 3).
It is also widely recognised that businesses must show respect for human rights as envisaged in the UN Guiding Principles on business and human rights (UNGPs).
The EU is currently working on a social taxonomy project based on three main objectives:
decent work (including for value-chain workers);
adequate living standards and wellbeing for end-users;
inclusive and sustainable communities and societies.
These goals target three groups of stakeholders: employees, consumers and communities.
Finally, the social taxonomy also considers socially harmful activities more generally. Similar to the environmental taxonomy, the question in this case is which activities can be considered socially harmful
under any circumstances.
Read more about EU Social Taxonomy
Corporate Sustainability Due Diligence (CSDD) to promote sustainability in corporate governance & management systems
On February 23, 2022, the European Commission adopted a proposal for a directive on Corporate Sustainability Due Diligence (CSDD). The purpose of this directive is to promote sustainable and responsible business and to anchor human rights and environmental considerations in companies' operations and corporate governance. These new rules will ensure that companies address the negative effects of their actions, including their value chains inside and outside Europe.
With Cleerit, you can easily structure your governance, internal control and CSDD processes, and mitigate risks and negative impacts, for effective promotion of sustainable and responsible behavior.
Why is it important to succeed with your sustainability strategy?
It is not only legislators who set demands for sustainability. Expectations that organizations work sustainably are rising from society as well as individual customers and citizens. There are many and good reasons for developing sustainability and the driving forces are numerous.
By investing in sustainability and involving employees, customers, suppliers and other stakeholders in your sustainability strategy, you create commitment and at the same time you gain insight into both risks and opportunities.
As an integral part of the business and with support throughout the organization, sustainability becomes an investment that reduces risk exposure, increases efficiency and generates returns in the form of new business, more assignments and improved relationships.
As both customers and citizens become more aware, they place higher demands on organizations and their products and services. The organization's employees also see sustainability as increasingly important and it has for many become a significant factor in attracting qualified employees.
Environment and social sustainability are also important criteria in procurement. Requirements labelling, energy efficiency, diversity and organic materials are selection criteria that have become important when purchasing and in requirements specifications.
Research has also shown that companies that invest in environmental concerns, social responsibility and responsible governance do not perceive it as an obstacle to value creation – quite the opposite, in fact. A strong ESG proposal is correlated with higher equity returns, reduced credit default swap spreads (CDS) and higher credit ratings, which in turn lead to lower cost of loans and financial investments.
A strong ESG proposal safeguards long-term success and increases the company's financial value:
Facilitates top-line growth: helps tap new markets and expand into existing ones, drives consumer preference
Cost reductions: helps combat rising operating expenses (such as raw-material costs and the true cost of water or carbon), reduces unnecessary waste disposal costs
Reduced regulatory and legal interventions
Employee productivity uplift: helps attract and retain quality employees, enhance employee motivation by instilling a sense of purpose, and increase productivity overall (employee satisfaction is positively correlated with shareholder returns)
Investment and asset optimization: enhances investment returns by allocating capital to more promising and more sustainable opportunities, helps avoid stranded investments that may not pay off because of longer-term environmental issues
Five ways that ESG creates value – McKinsey Quarterly, novembre 2019
Setting goals and accounting for sustainability lies with the top management
The key to a sustainable business lies primarily in the business model itself, i.e. how revenue is generated, as well as how goods and services are produced and benefit the customer or citizen.
This means that the responsibility for formulating goals and strategies for a more sustainable and responsible development ultimately lies with the top management. Management is also responsible for ensuring that the sustainability strategies permeate the entire organization and are translated into detailed action plans that specify what is to be done, by whom, when and what results are expected for the strategies to become a reality.
By setting goals and reporting on sustainability, you strengthen the conditions for achieving results and at the same time create transparency and credibility, as well as strengthening your brand towards customers, citizens and employees.
Take the time to think about which sustainability aspects are most important for your organisation and what you want to achieve. Describe your sustainability strategy in the organization's policy document, business plan and values, and make it come alive with Cleerit. Account for the progress you make, both internally and externally.
Clear overview and reliable decision support when managing your sustainability plans in a digital inclusive solution
With Cleerit you get a modern solution tailored to your needs. A solution that integrates the functions you need to implement and monitor the progress of your sustainability strategy, connected to EU Taxonomy and regulations.
Cleerits offers you clear overview that will help you prioritise and make informed decisions as you lead your organisation towards the goals in alignment with the UN Agenda 2030 and Global Compact.
Using Cleerit will also automate your continuous sustainability reporting and the annual sustainability report can be generated in real-time, including ESG risk management plans.
With access to a sustainability plan that provides both an overall picture and in-depth details, management is considerably simplified, especially when you engage in sustainability activities all over the world. Both management, the Board as well as internal control and compliance departments will be informed in real-time with Cleerit.
You can easily create reports that show progress towards your goals, how you allocate resources to prioritized areas, and the results you achieve.
From sustainability strategy, goals and risk analysis, to action plans with allocated resources and budgets
Based on your goals you can create action plans in Cleerit and get a visual chain of control that shows how material topics such as climate, work environment, diversity and equality are logically linked to goals and activities. It becomes clear what is to be done, by whom, when and what results you expect to reach.
Defining, analyzing, and managing risks that can prevent you from achieving your goals is a central part of sustainability plans. The risk management function in Cleerit supports this by integrating risk analysis and measures linked to the activities in your sustainability plan, or by establishing separate risk management, compliance and GRC plans.
A prerequisite for turning strategies into reality is to allocate your resources to where they are most useful. Therefore, budget & forecasting processes and resource planning are central features in Cleerit.
You avoid time-consuming manual planning templates and can automate your planning processes for optimized resource allocation and increased reliability. And the connection to the EU's Taxonomy is automated for efficient and comprehensive sustainability reporting.
The daily work towards the sustainability goals where everyone knows what to do
It is what you do every day, step by step, that leads you towards achieving your goals. As an operational manager, you get an overview of how various activities such as training, diversity initiatives and carbon dioxide emissions reduction activities are progressing with the help of overviews, schedules and status reports.
You and your teams get a digital workspace where it becomes clear to everyone what to do and how to contribute to the overall goals. To help you, you have tools such as goal maps, task planning, kanban cards, Gantt charts and the ability to share documents.
Ensure visibility of your sustainability results with reports and KPIs for analysis and learning
With reports and metrics, status and progression, you have continuous access to data for analysis and decisions. This allows you to be fast-moving, agile and easily re-prioritize when needed.
You can define KPIs with target values ​​and compare them with outcomes for goals such as climate mitigation & adaptation, gender equality, diversity and inclusion. Since the KPIs are linked to goals and activities, you will gain an in-depth understanding of your results. Documentation for the Board, the annual sustainability report and Communication on Progress (CoP) for the Global Compact are always available in real-time.
Dedicating time to analysis lays the foundation for increased learning that leads you on the path to realizing sustainability goals, while contributing to a more sustainable society.
Read on to know more about the features Cleerit offers to succeed with Sustainability, CSR & ESG: